Yevgeniya Petrova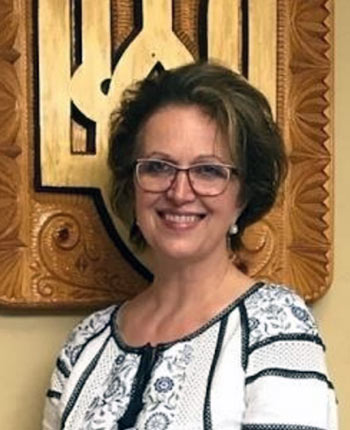 Yevgeniya Petrova
Canada
Yevgeniya Petrova has served as the First Deputy Chair of the World Federation of Ukrainian Women's Organizations (WFUWO) and as a member of the UWC Board of Directors since 2018.
Petrova was born in Ukraine. After successfully defending her dissertation, she worked as Deputy Dean of Scientific Works and as an Associate Professor in the Department of Ukrainian Language at the Oles Honchar Dnipro National University. She is the author of various scientific articles, textbooks for students, and is the editor of various collections of scientific papers.
Following her arrival to Canada in 2003, Petrova immediately immersed herself in Ukrainian community life. She was the Director of a Ukrainian Language Saturday School for ten years, a member of the Executive of the Ukrainian Canadian Congress – Toronto Branch, as well as a Deputy Chair of the Ukrainian Canadian School Board, under which she chaired the Committee on Methodology. She is currently a member of the Ukrainian Women's Organization of Canada – O. Basarab and the "Fourth Wave" International Organization of Ukrainian Communities.
Petrova has worked for UWC since 2005 serving as the Community Liaison Officer.