Shevchenko Days 2021. Upcoming virtual events
On March 9, Ukrainians around the world celebrate the 207th anniversary of Taras Shevchenko's birth. Shevchenko's genius continues to inspire, unite and educate Ukrainians around the world for centuries. The Ukrainian World Congress invites you to join a flashmob dedicated to the 207th anniversary of Taras Shevchenko's birth. Post your favourite Taras Shevchenko's quote which you consider relevant in our time with #ШевченкоЄднає
Join upcoming virtual events in March 2021:
March 7,  1 pm – Ukrainian Cultural Center (UCC) – Community Center for Ukrainian Americans in Greater LA and Theatre " Harmony " directed by Victoria Kuzina and Asya Gorska, presents " The Muses of Shevchenko's Genius", online Presentation. Watch on Facebook or YouTube.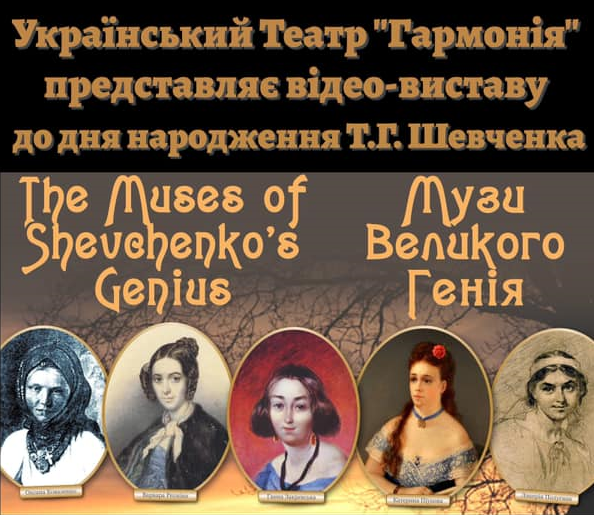 March 9,  20:00 UTC+02 the Ukrainian Congress Committee of America, Illinois division, invites everyone to watch the "Shevchenko and Maidan" project.
Watch on Facebook .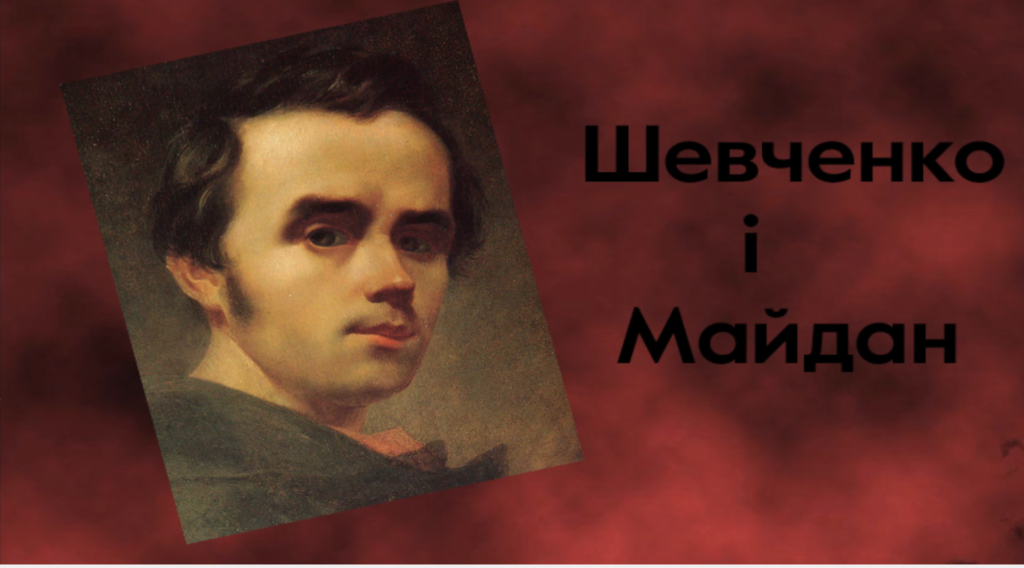 March 9, 2021,  7 pm (Kyiv) The Golden Lion Sand Animation Theater will be presenting a program that combines the immortal word of the great artist and images created using sand by talented artists. Vivid and unforgettable images representing the poet's inner world will be presented.
Watch on YouTube,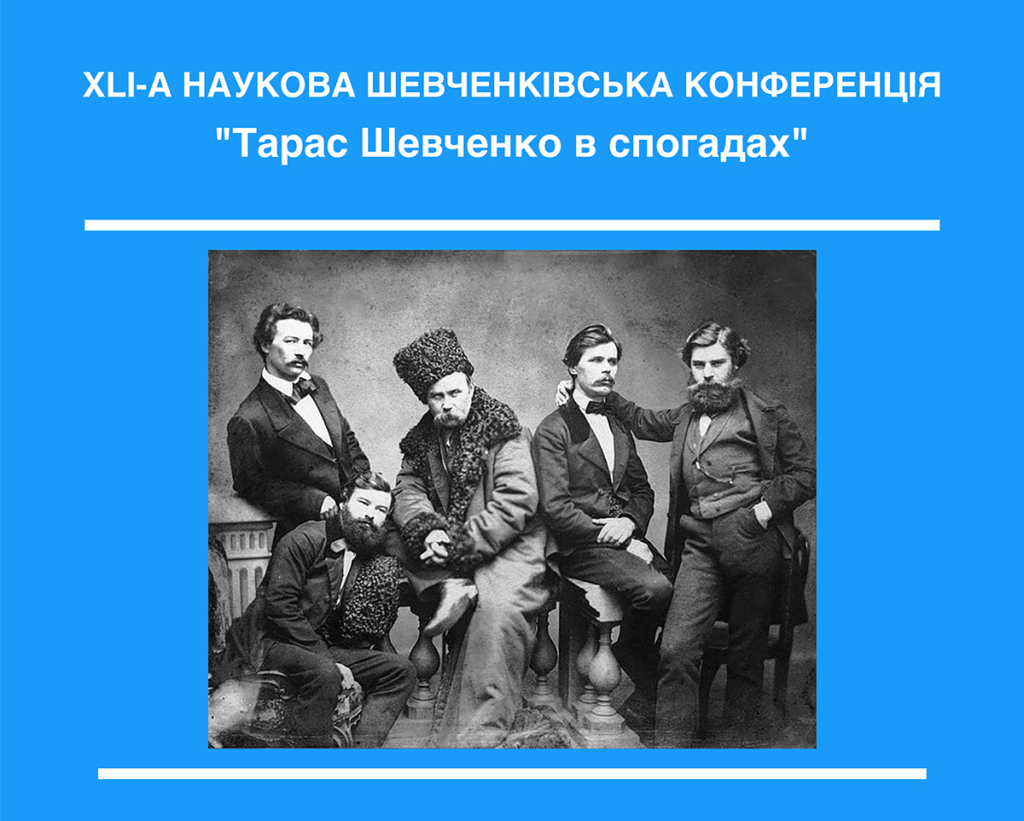 March 13, 12:00 pm to 1:30 pm EST  Join Shevchenko Scientific Society's 41st annual conference on Taras Shevchenko. This year's theme is based on a publication forthcoming from the Society featuring a series of memoirs about Shevchenko. The conference will be entirely in Ukrainian and will feature George Grabowicz, Stanislav Rosovetsky, Mikhail Nazarenko, Alexander Boron, and Oles Fedoruk. George Grabowicz will moderate.
Registration is required to join the webinar via this link (space is limited).
The conference will also be streamed live on the Society's Facebook page.
March 14, 2 pm EST Crescendo Music Group  (Toronto) presents concert "Honoring Shevchenko". The event will be broadcasted on Facebook pages, as well as on the  ForumTVCanada YouTube channel.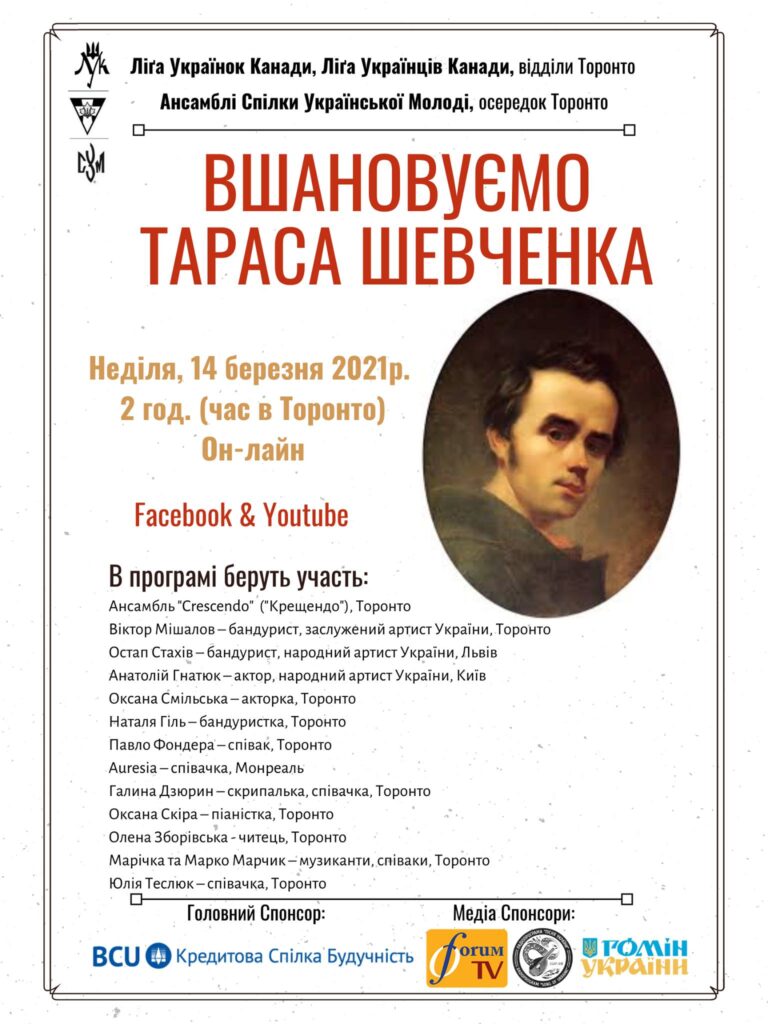 March, 19 13:00 Kyiv time. Join Ukrainians from the Southern hemisphere for an online Taras Shevchenko's readings – Shevchenko amongst us. Special guest – Ruslan Telipskyi. Friday –  Join Zoom Meeting: More information: e-mail [email protected]