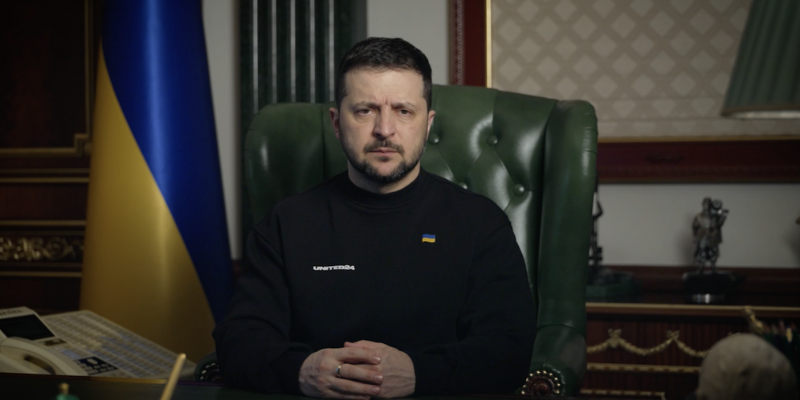 Ukraine will always remember its heroes, our memory of them will endure, and our enemy will perish
Ukrainians!
Today, Dmytro Kotsiubaylo, "Da Vinci", Hero of Ukraine, volunteer, man-symbol, man of courage, was killed in action. A fighter of the 67th separate mechanized brigade, a commander of a battalion. He was killed in the battle near Bakhmut, in the battle for Ukraine.
Since 2014, he has been defending our independence and the dignity of our people. One of the youngest heroes of Ukraine. One of those whose personal history, character, and courage have forever become the history, character, and courage of Ukraine.
For more than nine years, Ukrainian heroes have been fighting for Ukraine's future in fierce battles for the country. Peace and relative safety in the rear cities is their feat. Our confidence in Ukraine's victory is their resilience and strength.
Ukraine will always remember its heroes. Our memory of them will endure, and the enemy that came to Ukraine will perish.
The 67th brigade, warriors, glory to your bravery! All Ukrainians who are fighting for Bakhmut, glory to your heroism!
I am grateful to all the warriors whose resilience and perseverance destroy the occupier's army in Donbas!
Today, I would like to praise the 10th separate mountain assault brigade, 56th separate motorized infantry brigade, 93rd and 54th separate mechanized brigades for their results. Glory to you, warriors!
The marines of the "thirty-fifth", the paratroopers of the 79th air assault brigade, the 55th artillery brigade, our gunners. Glory to you, warriors!
Our border guards, the National Guard, intelligence, security forces operating in Donbas… Glory to all those delivering results for Ukraine in the toughest battles!
Glory to every soldier, sergeant, officer, and general who is in combat with their men!
We are doing everything we can to liberate our land as soon as possible, to put a historical end to the attempts to deprive our state and our people of their freedom. All the activities of our state and everyone who helps are aimed at this goal.
Today I would like to thank our entire team involved in the exchanges once again. Budanov, Yermak, Klymenko, Usov, Lubinets.
130 warriors were brought home from Russian captivity. And all 130 are privates and sergeants. The Army, Navy, National Guard, border guards, and other parts of the defense forces.
Just as we remember every corner of our country that is under occupation, we remember every single person in Russian captivity.
We will release everyone. I thank all our soldiers on the frontline who realize how important it is for us, for Ukraine, to replenish the exchange fund.
No matter what, we have to endure. No matter what, we must remember all our heroes.
Glory to all Ukrainians who are now in combat!
Eternal memory to all those who gave their lives for Ukraine!             
Glory to Ukraine!