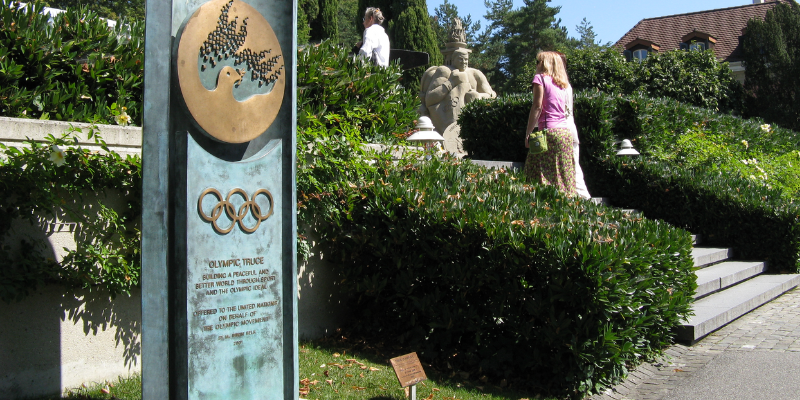 The Ukrainian Congress Committee of America, a UWC member, on Tuesday sent a letter to the president of the International Olympic Committee, Thomas Bach, calling upon the IOC and the world's sports community to "unite and not allow russian (and belarusan) athletes to compete until russia withdraws all of its troops from Ukraine's sovereign territory."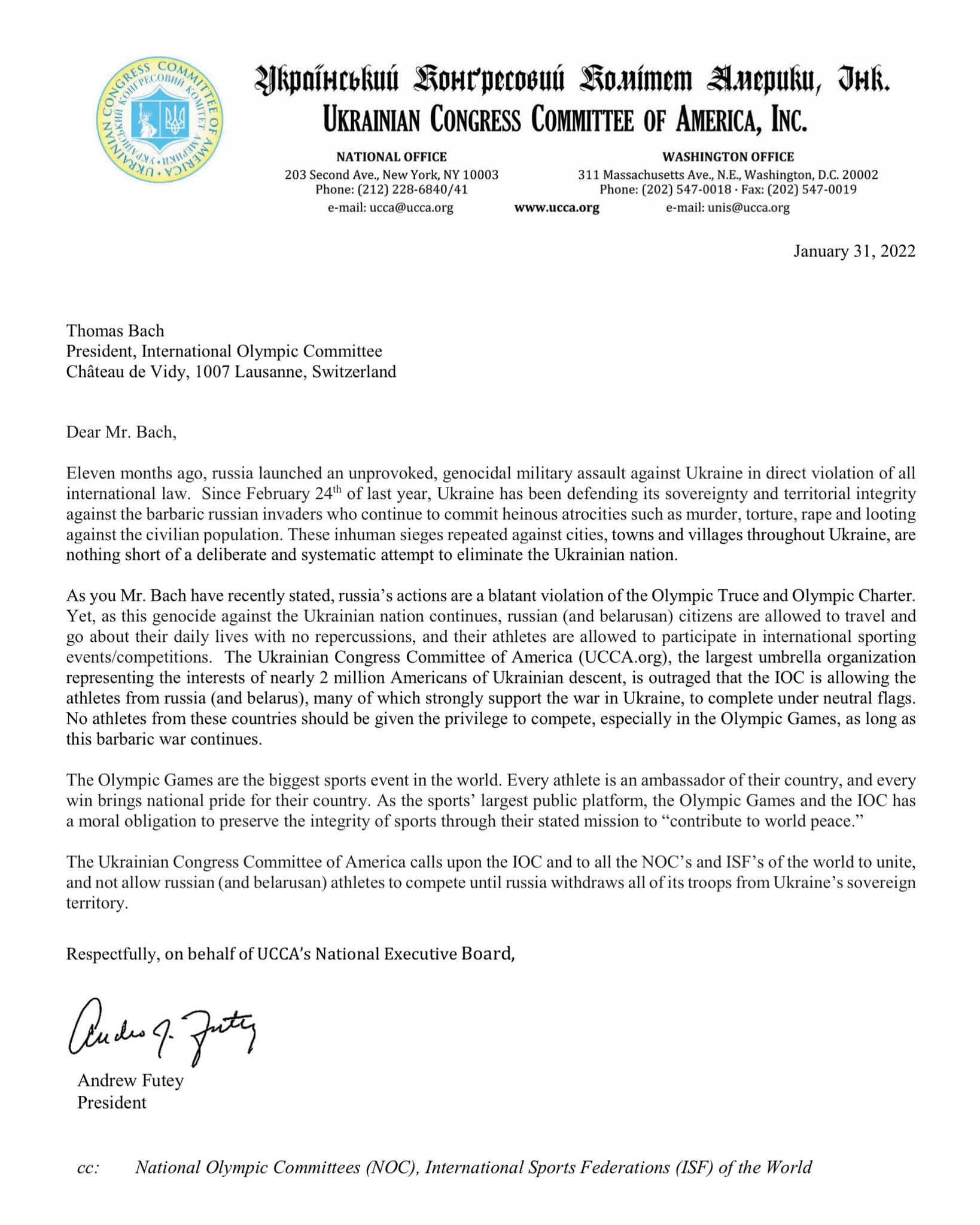 "No athletes from russia or belarus should be given the privilege to compete, especially in the Olympics, as long as this barbaric war by russia continues," said UCCA President Andrew Futey, who had signed the letter, in a Facebook post.
"The Olympic Games are the biggest sports event in the world. Every athlete is an ambassador of their country, and every win brings national pride for their country. As the sports' largest platform, the Olympic Games and the IOC have a moral obligation to preserve the integrity of sports through their stated mission to 'contribute to world peace,'" the letter reads.
About the same time Futey shared this letter on Facebook, the IOC tweeted its reaction to comments made by the Russian Olympic Committee President Stanislav Pozdnyakov, who, according to Newsweek, had said the ROC would still "reject any restrictions, additional requirements and sanctions related to the nationality of our athletes that are again offered to us as a condition for our return to the international stage."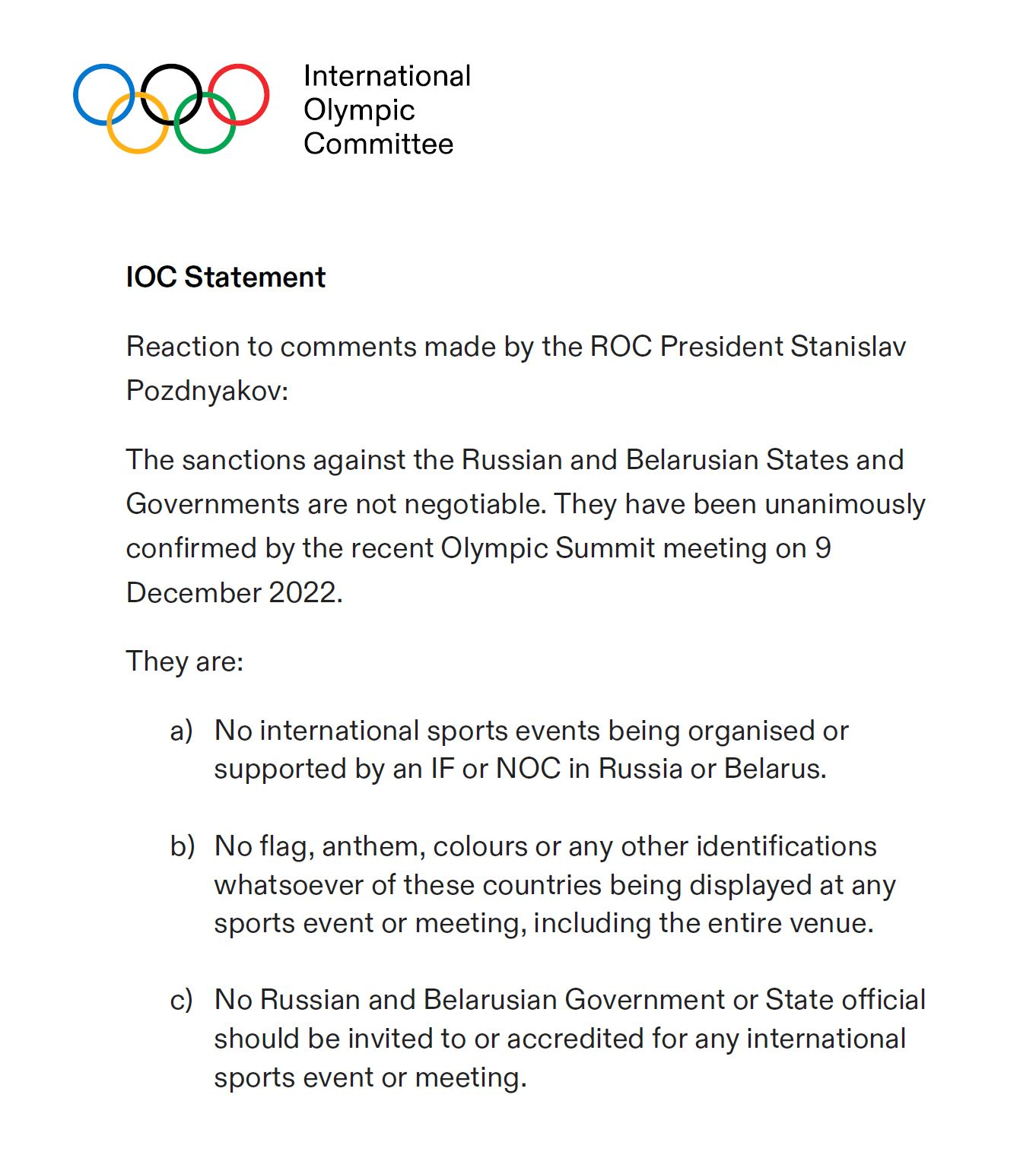 "The sanctions against the Russian and Belarusian States and Governments are not negotiable. They have been unanimously confirmed by the recent Olympic Summit meeting on Dec. 9, 2022," the IOC said.
As for Russian and Belarusian athletes' participation in sports events, the sanctions only provide that "no flag, anthem, colors or any other identifications whatsoever of these countries being displayed at any sports event or meeting, including the entire venue."
A week ago, the IOC Executive Board published a "Statement on solidarity with Ukraine, sanctions against Russia and Belarus, and the status of athletes from these countries," primarily dedicated to "the status of athletes" from Russia and Belarus. It was stated that "no athlete should be prevented from competing just because of their passport."
Ukraine's Foreign Minister Dmytro Kuleba sharply responded to the statement, saying that "the IOC is willing to trample on the graves of thousands of innocent people who have been and are being killed by Russians." And President Zelensky sent a letter to the presidents of leading international sports federations, stating that the IOC "unfortunately, wants to open sports to the propaganda influence of the terrorist state."
A month ago, Zelensky informed IOC President Thomas Bach that Russia's war of aggression had taken the lives of 184 Ukrainian athletes, and the aggressor was using sports for propaganda purposes.
Photo: At the stairway leading to the Olympic Museum in Lausanne, Switzerland: "Olympic Truce. Building a peaceful and better world through sport and the Olympic ideal. Offered to the United Nations on behalf of the Olympic Movement." (Oleksandr Zheleznyak, 2009)