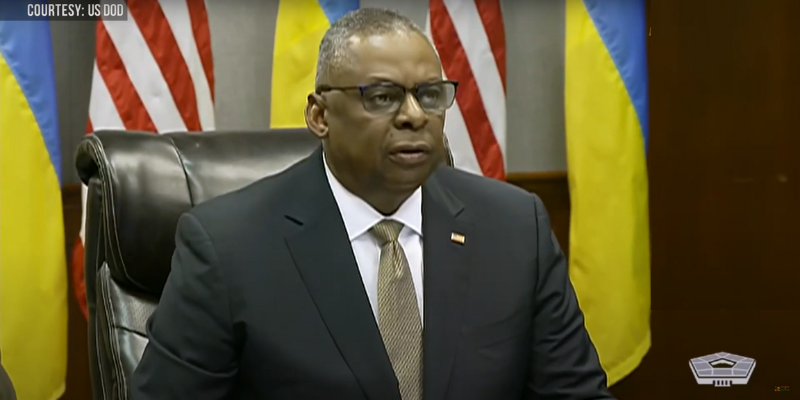 The Ukraine Defense Contact Group members need to find ways to get new donations of ammunition and air-defense systems to Ukraine, U.S. Secretary of Defense Lloyd J. Austin III said in his opening remarks at the 10th meeting of the group, held online.
"To increase ammunition production, members of this Contact Group are coming together to develop innovative solutions to industrial-production problems. And I'm confident that we'll continue to step up to meet Ukraine's needs into this spring and well beyond," Austin said.
He pointed out that the meeting was joined by Contact Group members "from all around the world and across most time zones, including friends in the Americas, Europe, the Middle East, and the Indo-Pacific."
"More than a year ago, Russia launched its illegal and unprovoked, full-scale invasion. And ever since, Ukraine's forces have been fighting bravely to defend their sovereignty, their territory, and their freedom.
"No Ukrainian should have to endure daily shelling.
"No Ukrainian parent should have to worry that their child's school will be bombed.
"No nation should have to fight for its survival against a foreign invasion force that is leveling entire cities and towns," the Secretary stressed.
He noted a steady growth in the number of countries donating Leopard tanks to Ukraine and said nine countries have now committed to providing more than 150 Leopard tanks.
"In the face of Russia's cruel bombing campaign, the number of countries providing air-defense assets also continues to expand. For example, at the last Contact Group, we heard about Italy and France's SAMP/T contribution. The United States, Germany, and the Netherlands have come forward with Patriot donations. And many other countries have provided shorter-range air defense. And both Canada and Germany have contributed mid-range air-defense systems like NASAMS and IRIS-T," said Austin.
"But we are now at a crucial time in the course of Ukraine's fight for freedom. And we must all demonstrate our continued resolve and unity. That means following through on our commitments—fully and quickly," he added.
Following the Contact Group meeting, a.k.a. "Ramstein 10," Ukraine's Defense Minister Oleksiy Reznikov tweeted that it "inspires optimism: strengthening air defense, ammo supplies, trainings & forming an 'armored fist.'"
He also thanked Austin for his outstanding leadership and friends from the anti-kremlin coalition for their willingness to stand with Ukraine until its victory.
#Ramstein 10 inspires optimism:
strengthening air defense, ammo supplies, trainings & forming an "armored fist".
Thank you to @SecDef for your outstanding leadership and to friends from the anti-kremlin coalition for your willingness to stand with Ukraine until our victory.

— Oleksii Reznikov (@oleksiireznikov) March 15, 2023