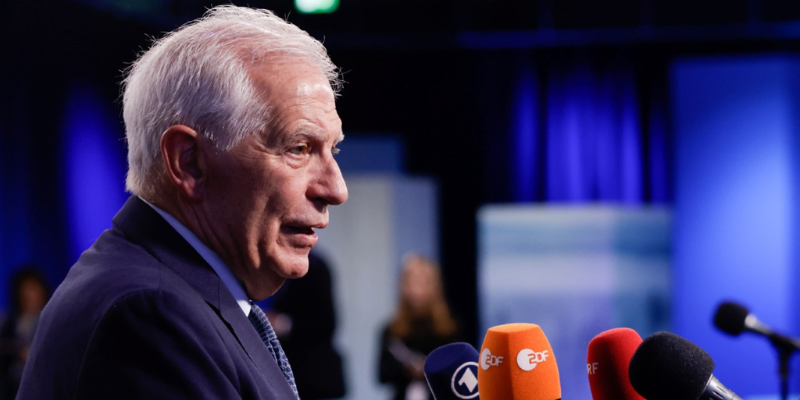 At an informal meeting of EU defense ministers in Stockholm on Wednesday, EU member states agreed to boost supplies of artillery rounds and buy more shells to help Ukraine. Still, they have to work out how to turn these intentions into reality, according to DW.
Under a plan drawn up by foreign policy chief Josep Borrell, EU states would get financial incentives worth €1 billion ($1.06 billion) to send more artillery rounds to Ukraine while another €1 billion would fund joint procurement of new shells.
"There has been a general agreement on this procedure, but there are questions pending. Everything has to be discussed in detail," Borrell said after the meeting, also attended by Ukraine's Defense Minister Oleksiy Reznikov.
Borrell said he hoped the plan would be finalized at a meeting of EU foreign and defense ministers on March 20.
However, Reznikov had urged the ministers in Stockholm to support an Estonian plan for EU countries to come together to buy one million 155mm shells this year at a cost of €4 billion to help Ukraine fight Russia's invasion and launch a counter-offensive.
Borrell's plan is smaller in scale but would still be a landmark step for the EU, as defense procurement has largely been the preserve of the bloc's individual member governments.
Borrell's plan comprises three pillars, according to Ukrinform.
The first is the new €1 billion aid package from the European Peace Facility to reimburse the immediate delivery of available ammunition from EU countries' stockpiles.
The second, worth another €1 billion, is placing coordinated orders for the production of additional 155mm ammunition to both replenish the national stocks and continue helping Ukraine.
And the third is to build up the European defense industry capacities in the long run to meet the increased demand of EU countries' armed forces.
According to CNN, Reznikov said his country needed one million rounds of ammunition "as soon as possible" to deter Russian forces.
The Russia-Ukraine war marks the first time the European Union has supplied lethal weapons to a third country, underscoring the extent of the threat it believes Moscow poses to its security.
"I think that many countries have had a wake-up call and need to replenish and increase their stocks," Micael Johansson, chief executive of Swedish defense contractor Saab, told CNN.