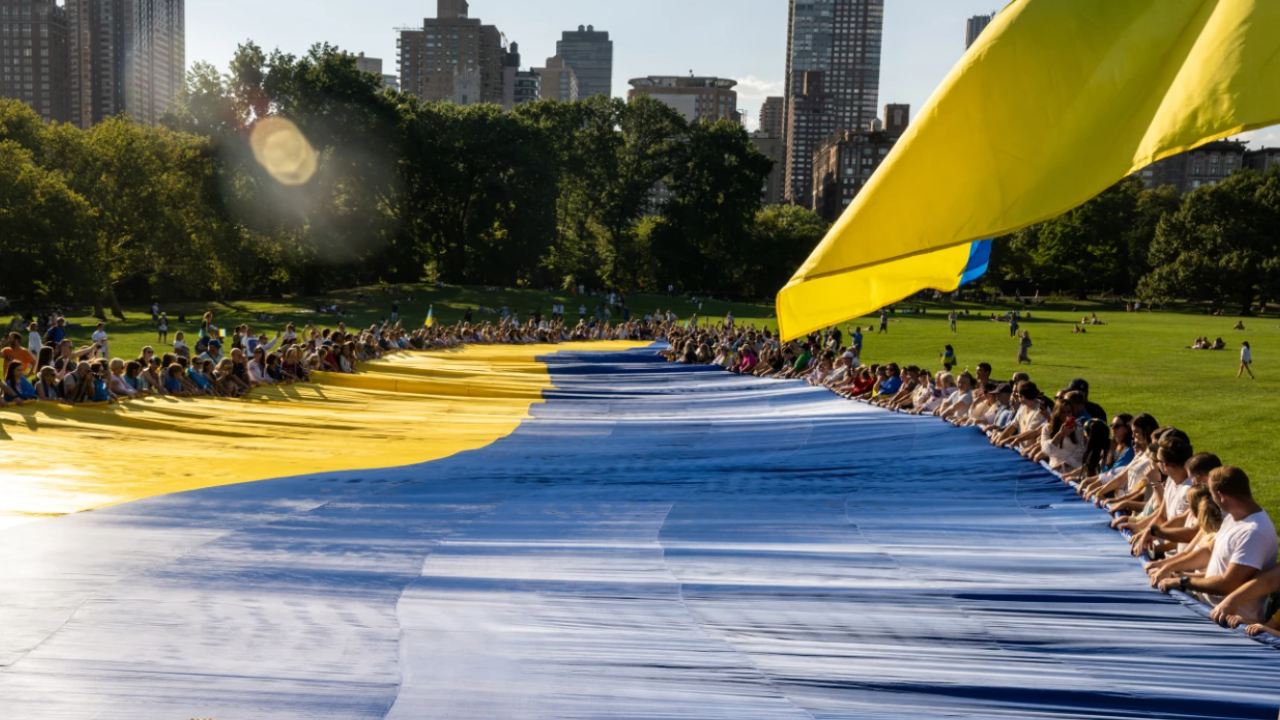 This special 31st anniversary of Ukrainian independence, which coincided with  6 months of full-scale war with Russia, was celebrated by the Ukrainian communities with celebrations in cities across the world. 
The President of the Ukrainian World Congress Paul Grod was among the first to congratulate Ukraine on Independence Day at 6:30 am Kyiv time during the Yedyni Novosti national news telethon.
AUSTRALIA
UWC First Vice-President Stefan Romaniw and the Extraordinary and Plenipotentiary Ambassador of Ukraine to Australia Vasyl Miroshnychenko and the community attended a prayer service for Ukraine and our soldiers. At 11 am, the flag was solemnly raised on Federal Square and the national anthem of Ukraine was sung.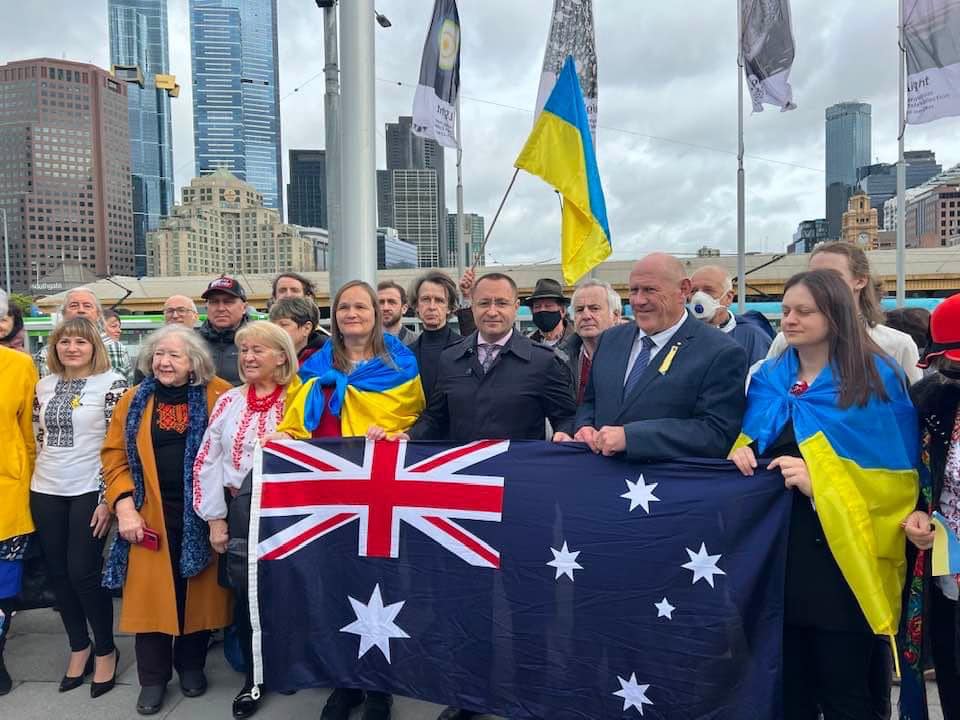 According to the Ambassador, there was also a meeting on Independence Day with Project Victoria, the national management agency for infrastructure projects, to discuss ways that the Victorian government can help Ukraine rebuild. There was also a meeting with Melbourne businessmen to raise funds for UNITED24. 
Video: Melbourne in Ukrainian colors
Australian Prime Minister Anthony Albanese and Minister of Emigration Andrew Giles congratulated Ukraine on Independence Day with solemn letters (letter).
BRAZIL
On August 21, the Ukrainian community of Curitiba celebrated the 31st anniversary of Ukraine's declaration of independence and the National Day of the Ukrainian Hromada in Brazil.
The ceremony was opened at 15:00 at the Ukrainian Memorial in Tingui Park with a blessing and prayer from Father Elias Maringuk and comments from the President of the Ukrainian-Brazilian Central Representation Vittorio Sorotyuk, who was joined by the Honorary Consul of Ukraine in Curitiba and other distinguished guests.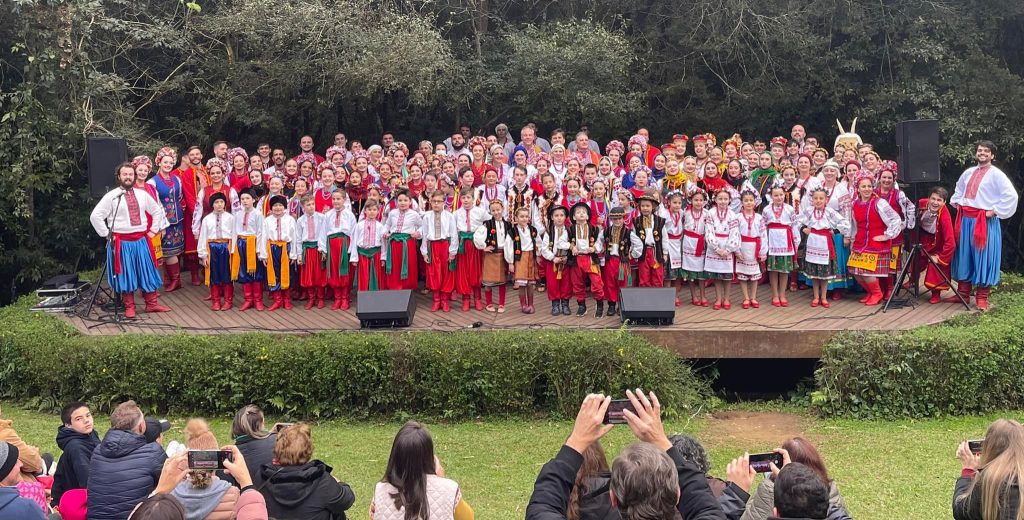 Ukrainian folk bands "Barvinok" and "Poltava" performed in front of a large audience. 
 POLAND
More than 20,000 Ukrainians and their friends gathered for the Ukrainian Independence Day rally in Warsaw. The participants appealed to the authorities of Poland and the EU to recognize Russia as a terrorist state and to provide Ukraine with more modern weapons to defeat the enemy.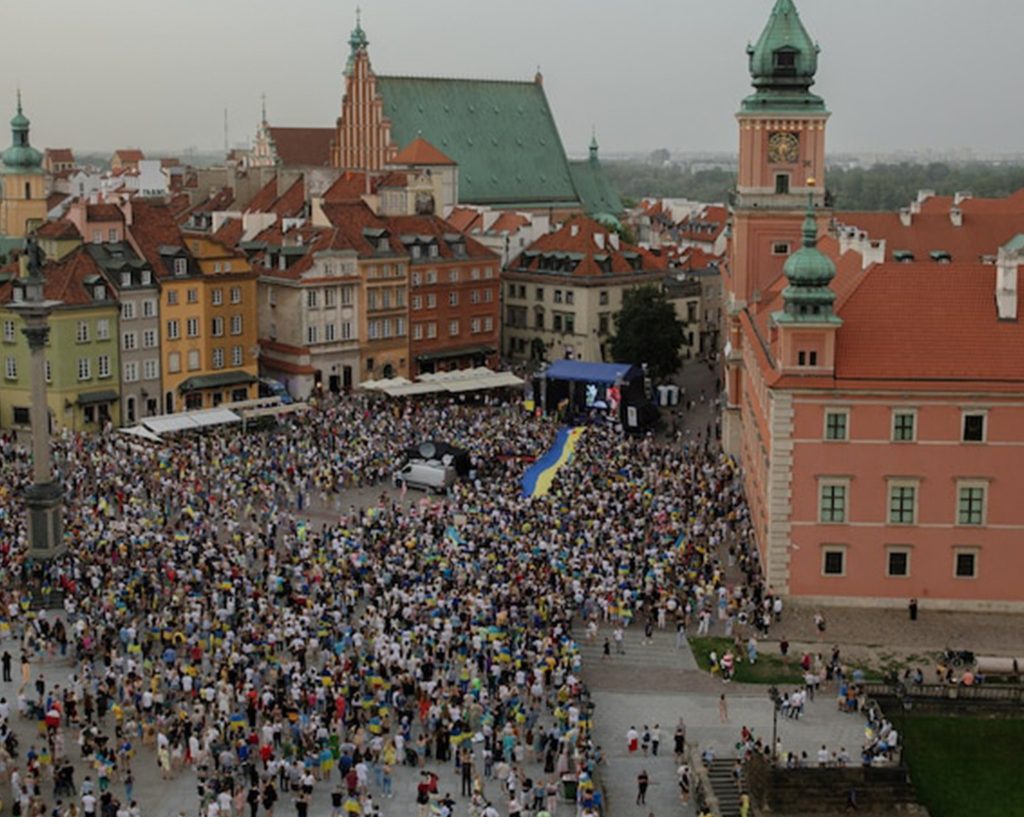 Numerous actions were held in other Polish cities. On the main bridge in the center of Przemyśl, the Ukrainian community formed a living "Chain of Support". 
FRANCE
Paris was flooded with Ukrainian symbols and people in embroidered garments. Vice-President of the Union of Ukrainians in France Volodymyr Kogutyak explained how rally participants marched in support of Ukraine for Independence Day along with French officials and representatives of various associations.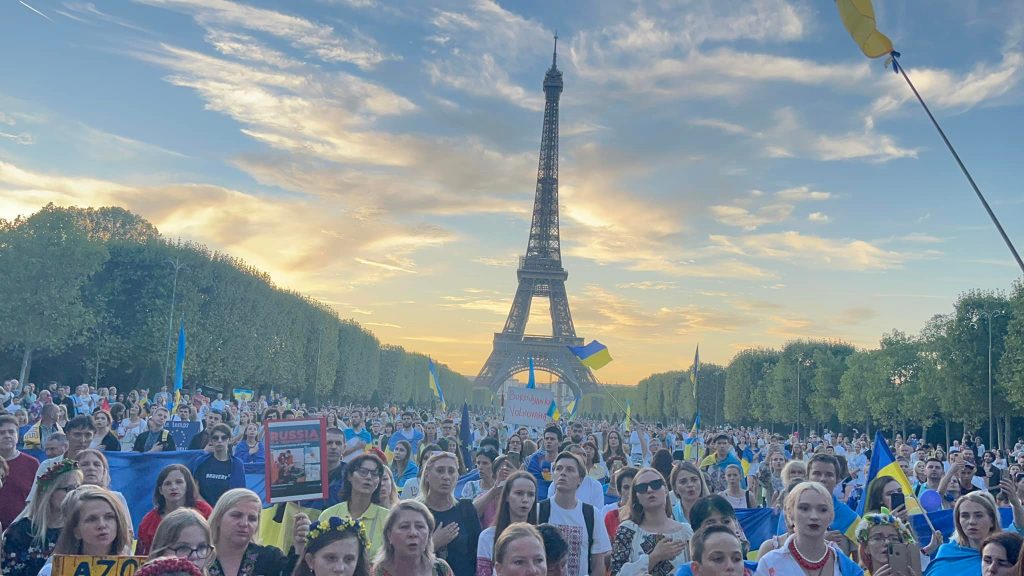 Independence Day celebrations were held under banners of Russia – Terrorist State, ENGIE, TotalEnergies, #Mulliez get out of #Russia, Sanctions against Russia, Weapons for Ukraine, Save #Azov. 
 PORTUGAL
On August 24, the Union of Ukrainians in Portugal, with the support of the Embassy of Ukraine in Portugal and the Chamber of Municipalities of Lisbon, held a ceremony celebrating Ukrainian Independence Day with the participation of high-level Portuguese political representatives, the Ukrainian Embassy and  priests of the UGCC and OCU.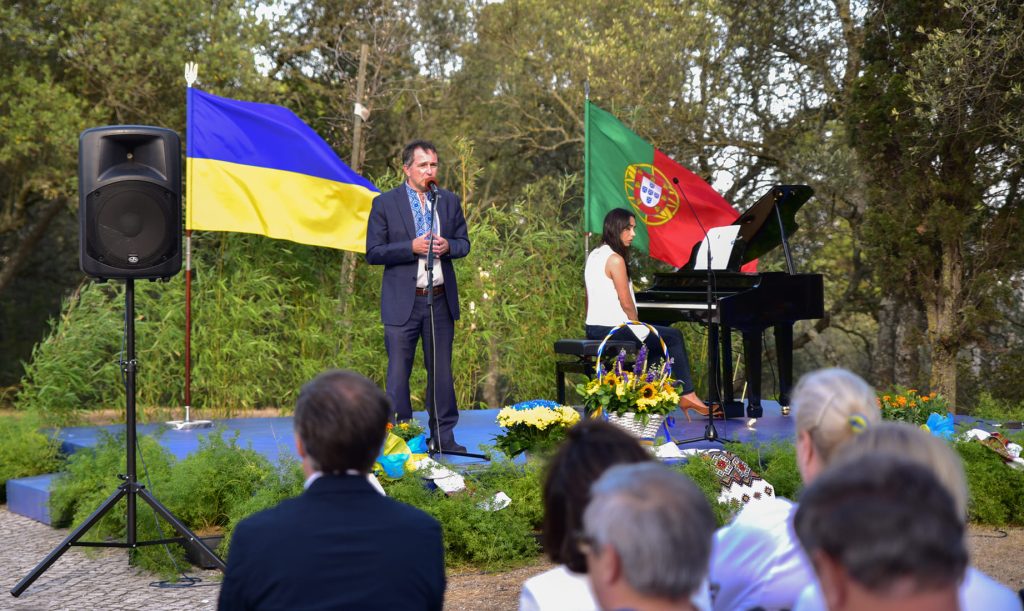 "This year, Independence Day has a special, sacred meaning for us. The age-old enemy of the free world, Russia, has decided to destroy Ukraine as a state, and us, Ukrainians, as a nation. "This will not happen. We will stand and win!"  pronounced Union of Ukrainians in Portugal representatives on social networks. 
GEORGIA
On August 24, a march in support of Ukraine for Independence Day was held in Tbilisi.
"This six-month full-scale war showed that we are not alone. Millions of people around the world united in support of Ukraine. Today, together with Ukrainians, many Georgian soldiers are fighting on Ukrainian soil for the independence of Ukraine. We are proud of Georgia and extremely grateful for your support," proclaimed the Ukrainian organizers.
ESTONIA
On Independence Day in Tallinn, a march entitled "Elagu Eesti! Glory to Ukraine" took place, organized by the Congress of Ukrainians in Estonia. Ukrainians expressed their gratitude to Estonia for its large and comprehensive support of Ukraine and for its hospitality in receiving Ukrainian war refugees. March participants chanted slogans in support of Ukrainian prisoners of war, in particular for the Azov defenders and the Armed Forces of Ukraine, demanding the de-occupation of Ukrainian territory. About 400-500 people gathered for the rally.
The march started in the courtyard of the Tallinn Center of Ukrainian Culture and passed along a route by Old Town and Town Hall Square, ending at Svobody Square. The Ambassador of Ukraine to Estonia Maryana Betsa addressed the crowd.
CANADA
Canadian Ukrainians gathered in front of Winnipeg City Hall to celebrate the 31st anniversary of Ukraine's independence. Local officials joined the rally in support of Ukraine and the Ukrainian community.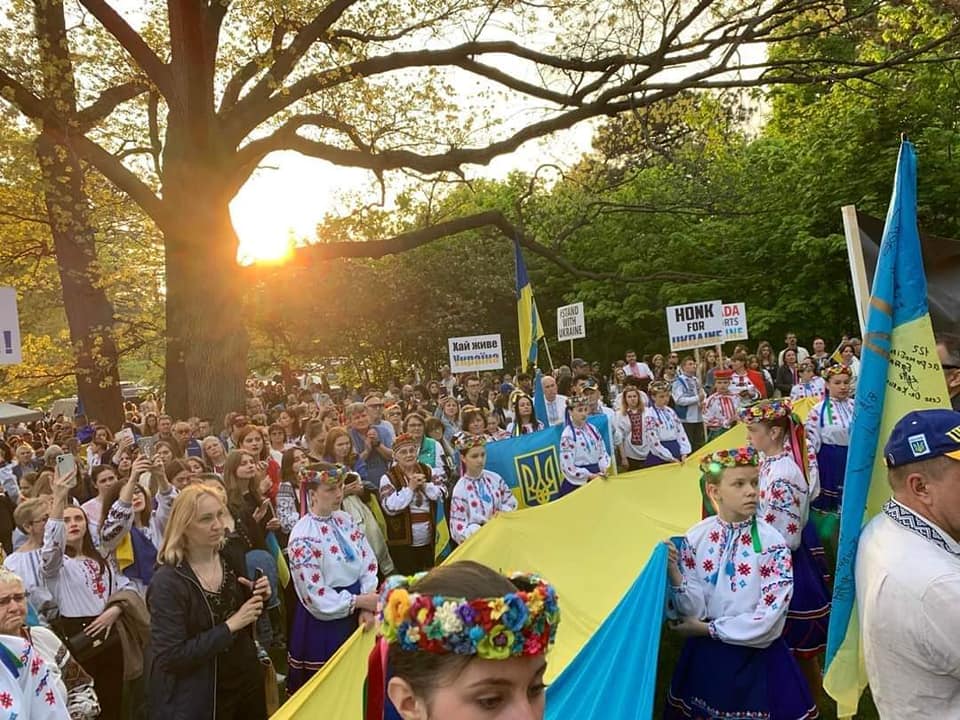 In Toronto, events for Independence Day began the day before with the celebration of Ukrainian Flag Day.
UNITED STATES
The Ukrainian Congress Committee of America published a video conveying the solemn atmosphere of this year's celebration entitled "Ukraine Forever".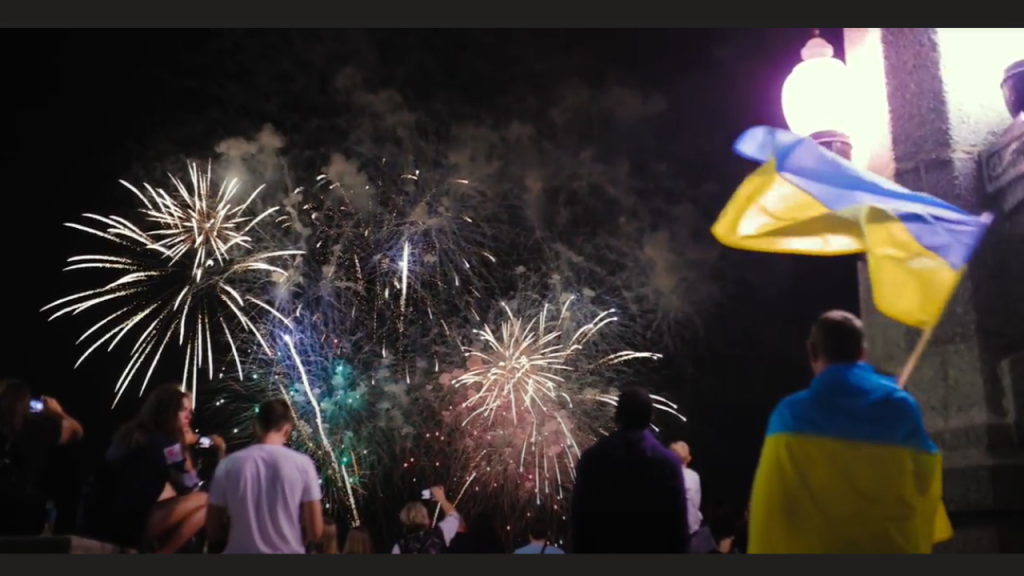 The Illinois branch of the Ukrainian Congress Committee of America held a Ukrainian flag-raising ceremony. 
Concerts in support of Ukraine took place in many US cities with Ukrainian communities, for example, in Brooklyn, New York.