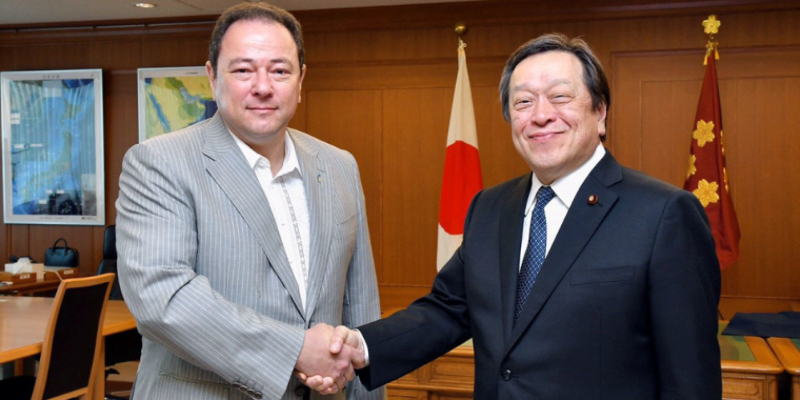 Two injured servicemen of the Armed Forces Ukraine will receive medical treatment in a hospital in Japan beginning next month, the Japanese defense minister said Thursday, according to Kyodo News.
The two will undergo rehabilitation treatment at the Self-Defense Forces Central Hospital in Tokyo after one lost a leg while another lost both legs in Ukraine's ongoing battle to defend itself against Russia, the Japanese Defense Ministry reported.
The costs of their hospital stay and travel, approximately 2.2 million to 4.2 million yen ($16,000 to $30,500), will be covered by the Japanese government.
The move was agreed upon after a meeting at the ministry between Defense Minister Yasukazu Hamada and Ambassador of Ukraine to Japan Serhiy Korsunsky the same day. It will be the first time for the hospital to treat soldiers from a foreign military.
The day before,Kyodo News reported, referring to a source within the Japanese government, that Tokyo wants to demonstrate a stronger commitment to Ukraine ahead of the G7 summit beginning on Friday, and that the planned treatment of the wounded, including those injured by landmines, will be in response to a Ukrainian request.
While the Western democracies have been providing tanks, jets and artillery to Ukraine, Japan has only offered non-lethal defense equipment to Kyiv, such as bulletproof vests, helmets and drones, because of the country's strict arms export control regulations, Kyodo News points out.
Hence, the plan to treat wounded Ukrainian soldiers must be handled carefully. If those treated are sent back to the frontline after recovery, it could be perceived as providing combat capability to another country.
Photo: Ukrainian Ambassador to Japan Serhiy Korsunsky (L) and Japan's Defense Minister Yasukazu Hamada shake hands on May 18, 2023. (Photo courtesy of the Defense Ministry)(Kyodo)