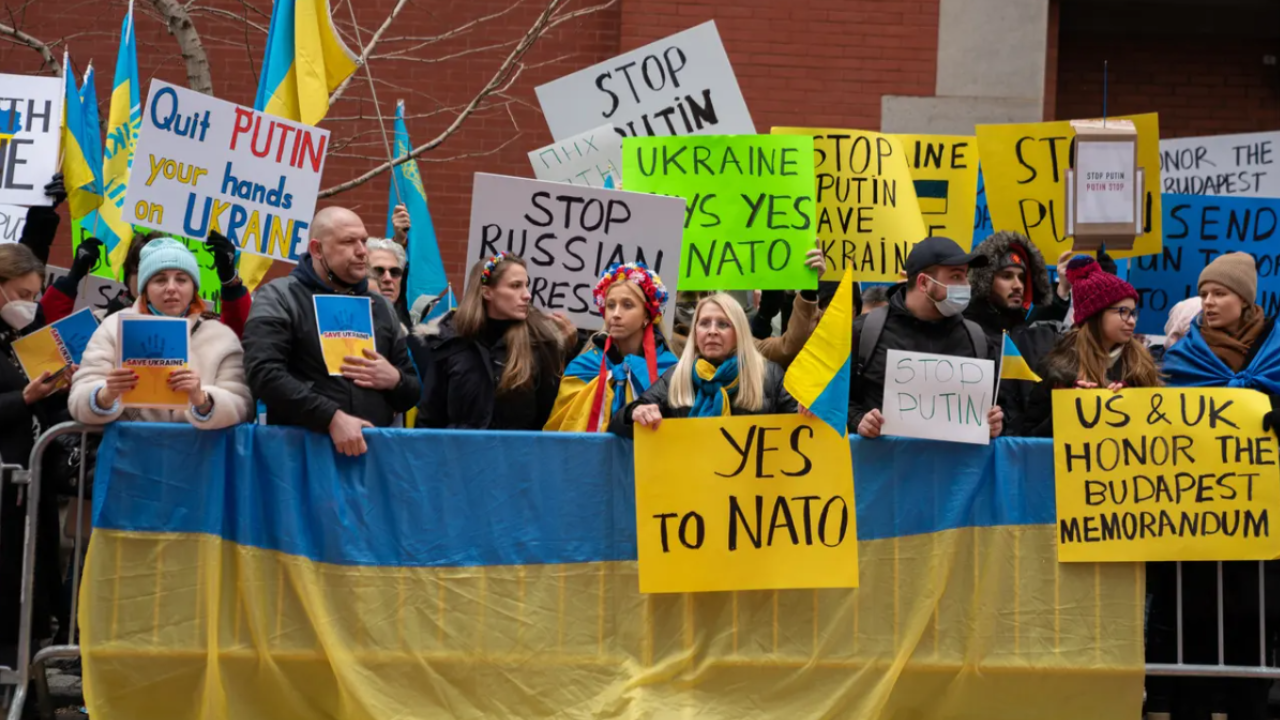 Photo: theguardian.com, People gather at the Russian mission during a stand with Ukraine rally in New York City. Photograph: David Dee Delgado/Getty Images
The Ukrainian World Congress (UWC) together with our communities in all NATO member countries call for Ukraine's accelerated accession into NATO.   
Ukrainian community leaders are calling upon their governments to support the Ukrainian government's application for expedited NATO membership.    
"NATO membership for Ukraine is key to stop Russia's continuing invasion and destruction of Ukraine," stated UWC President Paul Grod.  "This is an appropriate response to Putin's efforts to illegally annex four Ukrainian regions that are currently under temporary Russian military occupation."  
UWC calls upon the leaders of all NATO member states to abide by the alliance's open-door policy, and support Ukraine's bid, as this will only serve to strengthen the entire bloc.   
"The Armed Forces of Ukraine are not only fighting for Ukraine's freedom and independence, but also for the freedom of Europe and that of the entire Free World, and for the values that underpin our right to live in democratic societies that respect human rights. Ukraine's ongoing fight would not be as successful without the strong military, financial and political support from western governments. Ukraine is de facto already a part of the alliance. The time has come to make it de jure," said UWC President.  
Ukraine has received military support from nearly all NATO member states, and that has enabled the Ukrainian army to essentially complete the transition from the Soviet military to Western standards, while fighting a defensive war. Ukraine and its military continue to coordinate closely with its Western allies, which clearly demonstrates that the country is, in fact, already a part of the Alliance.    
Under a similar accelerated NATO membership process that Finland and Sweden are currently pursuing, Ukraine could move much faster than other countries that took years to complete the formal process in the past. Currently, a total of eleven NATO member states, including Canada, Croatia, Czech Republic, Estonia, Latvia, Lithuania, North Macedonia, Montenegro, Poland, Romania and Slovakia, have announced their support for fast-tracking Ukraine's integration. However, the decision to accept Ukraine into NATO requires the consensus of all 30 member states.  
"The West should not be deluded: Putin's deadly regime has already brought hybrid warfare to the rest of Europe, including energy blackmail, and the recent acts of sabotage in the Baltic Sea. Russia must be stopped now, otherwise, those acts of aggression will only increase. Accepting Ukraine as a NATO member will serve this purpose," Paul Grod said. "We call upon the leaders of all NATO member states to support Ukraine's bid. We also call upon all Ukrainians, and Ukraine's friends who are living in NATO member states, to be proactive in advocating for Ukraine's NATO membership!"