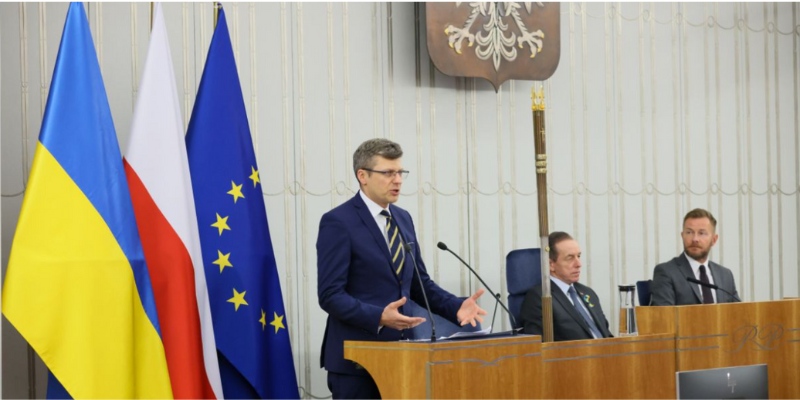 The Polish parliament's upper house – the Senate – on Thursday unanimously adopted a resolution on Ukraine's membership in NATO as a key link in Europe's defense, PolskieRadio24.pl reported.
According to the senators, the upcoming Vilnius NATO summit should offer Ukraine "much more than in the previous statements about the open door policy" and become an important stage in Ukraine's preparation for full membership.
"Ukraine's accession to NATO should be a political decision, as in the case of Finland and Sweden – the result of a strategic analysis of challenges and threats outside the Alliance's eastern border," the resolution reads. The document notes that Finland and Sweden were invited to NATO by a procedure that had never been used before. "The Senate of the Republic of Poland appeals to NATO member states to apply a similar emergency procedure to Ukraine."
"After a year of the terrible war, we know that Ukraine, by resisting Russia, defends Europe and is a key link that protects the continent against aggression from the East," the Polish senators emphasize.
By their estimates, "Ukraine today has the strongest army on the continent with extraordinary combat experience. The Ukrainian army is rapidly re-arming itself with NATO equipment and using operational art and tactics that have been developed by Western allies for decades."
"If Russia wins, it will not stop at the western border of Ukraine," the Senate warns.
On Wednesday, during the debate on the draft resolution, Senate Deputy Speaker Gabriela Morawska-Stanecka reminded that Ukraine had already received security guarantees, such as the Budapest Memorandum of 1994, under which the United States, Russia and Great Britain pledged to respect its sovereignty and territorial integrity, but these guarantees did not protect Ukraine from a Russian attack.