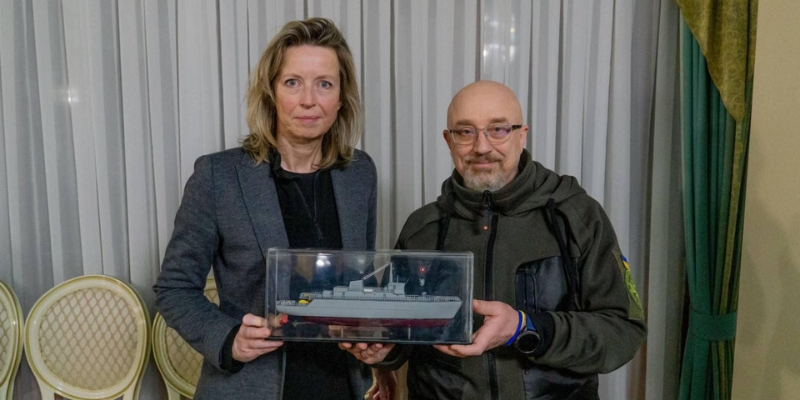 The Netherlands will give Ukraine two Alkmaar-class minehunters, Ukraine's Defense Minister Oleksiy Reznikov said in a Facebook post on Tuesday. He said Belgium has also joined this initiative.
The Ukrainian minister was referring to the announcement made by his Dutch counterpart Kajsa Ollongren in the southern Ukrainian city of Odesa at a joint media briefing during her visit to Ukraine.
The transfer is planned to be carried out before 2025, and training of Ukrainian crews will start soon, according to Reznikov.
He called this move "an important step in the Ukrainian Navy upbuilding" that also will contribute to navigation safety in the Black Sea.
"This is a powerful political signal because the transfer of the warships to Ukraine will be an impetus for further steps in strengthening the Ukrainian Navy's capabilities. Let's not forget that the United Kingdom, too, has already handed over two similar ships to us. Today, I can safely say that a warship coalition has started along with the tank coalition," Reznikov said.
During the briefing, he also mentioned that Ukraine is building its fleet in Turkey. According to Ukrainska Pravda, Ukraine has an agreement with Turkey on constructing several Ada-class corvettes for the Ukrainian Navy. The first of the corvettes, "Hetman Ivan Mazepa," was launched in the fall of 2022, and the keel of another one will be laid down in 2023.
Both at the briefing and in the Facebook post, Reznikov thanked the Netherlands and Ollongren personally for strengthening Ukraine's defense capabilities. He mentioned the Harpoon anti-ship missiles, Panzerhaubitze 2000 self-propelled howitzers, NASAMS air defense systems and Dutch-modernized М113 armored personnel vehicles the Netherlands had supplied to Ukraine. The Netherlands also supports the supply of the Patriot systems to Ukraine.