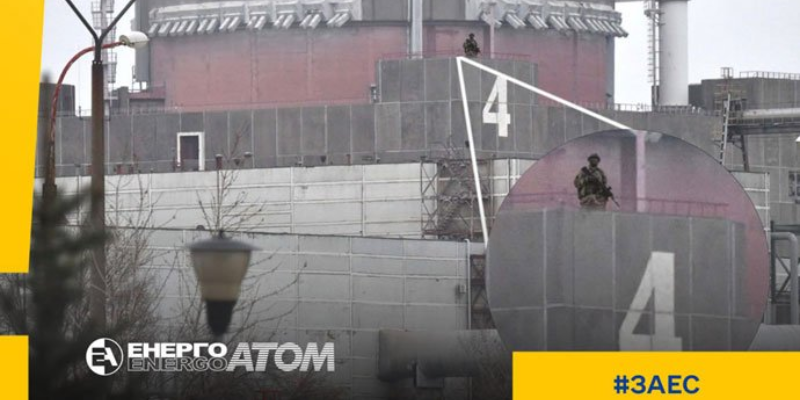 Russian occupiers have placed military equipment, weapons and explosives in the turbine unit of the Zaporizhzhya Nuclear Power Plant (ZNPP) Reactor #4, the State Nuclear Regulatory Inspectorate of Ukraine reported Wednesday, referring to the information from the International Atomic Energy Agency's Incident and Emergency Center.
The Ukrainian regulator also says it has information obtained through unofficial channels that the Russians store equipment, weapons and explosives on other ZNPP premises, too, including mechanical repair workshops and the roofs of reactor units.
"The new criminal actions of the Russian occupiers are another step that is significantly detrimental to the nuclear and radiation safety of the nuclear installations located on the Zaporizhya NPP industrial site. The inadequate decisions and actions of the Russian military endanger both the personnel of the nuclear plant and the residents of nearby settlements," the report reads.
"We emphasize once again that in the event of an emergency at the ZNPP with a potential release of radioactive substances into the environment, the consequences will be felt not only by Ukraine – they will be of a cross-border character," the Regulatory Inspectorate warns.
In late July 2022, the Russian military placed heavy military equipment with ammunition, as well as weapons and explosives, in the engine room of ZNNP Reactor #1. In early August 2022, the regulator was also informed about military equipment being placed in the engine room of Reactor #2.
Last week, the U.K. Ministry of Defense reported that the Russian occupation forces established sandbag fighting positions on the roofs of the ZNPP's several reactor buildings.
"The nuclear terrorism the Russian Federation resorts to is unacceptable in the civilized world. We call on the international community for a consolidated and decisive response to the actions of the aggressor country, the application of tough sanctions against Russian nuclear industry enterprises and persons affiliated with them. We emphasize that the Russian Federation should be deprived of all rights and privileges at the IAEA and other international institutions in nuclear energy use," the State Nuclear Regulatory Inspectorate says.