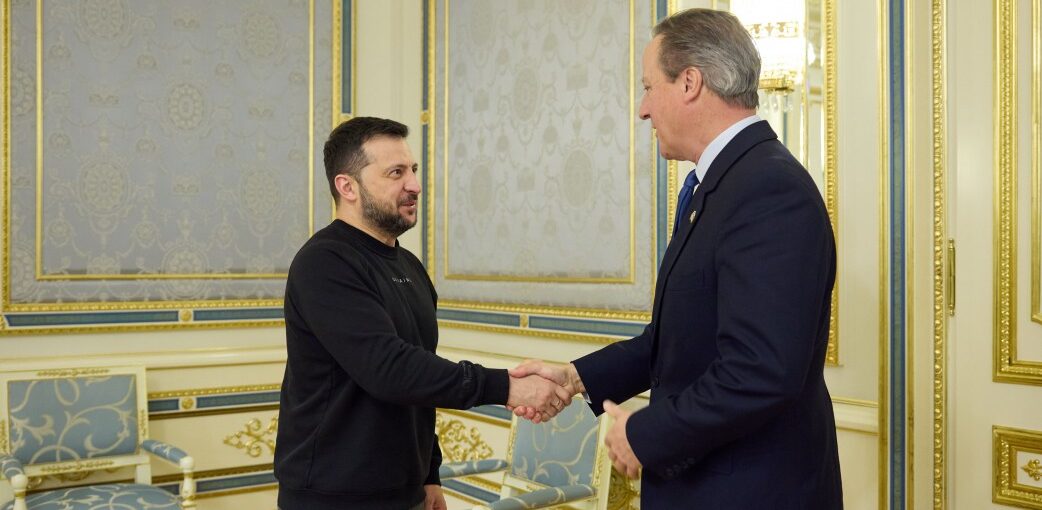 The newly appointed UK Foreign Secretary, David Cameron, paid his first diplomatic visit to Ukraine. While in Kyiv, the diplomat assured the United Kingdom and its partners would support Ukraine as much as necessary for victory.
"Russia thinks it can wait this war out, and that the West will eventually turn its attention elsewhere. This could not be further from the truth. In my first discussions with President Zelenskyy in my new role, I made clear that the UK and our partners will support Ukraine and its people for as long as it takes for them to achieve victory," Cameron said. 
The President of Ukraine congratulated Cameron on his appointment and thanked him for making his first working visit to Kyiv in his new position.
"This is very important, especially now that the world is paying attention not only to the situation on the battlefield in Ukraine. We are grateful for the United Kingdom's unwavering support for Ukraine. We are grateful for the warm welcome of Ukrainian citizens in the UK. And we are glad that you have come to Ukraine," Volodymyr Zelenskyy said.
The UK minister also met with Ukraine's Deputy Prime Minister, Olha Stefanishyna. The parties discussed Ukraine's aspirations to join NATO. During the meeting with Prime Minister Denys Shmyhal, plans for restoring and reconstructing Ukraine were discussed.
In addition, Cameron visited the  Unit City innovation and technology hub, where he met with young entrepreneurs. The official visited Odesa with the Minister of Foreign Affairs of Ukraine, Dmytro Kuleba.
"I am very proud to be here in Odesa on the Black Sea. It is so important what the Ukrainian Navy has accomplished – pushing back the Russians, opening these new sea lanes. I am proud that Britain is playing its part, and we are going to continue to play our part. There is more to come," Cameron said. 
Visited Odesa together with @David_Cameron.

Grateful to my counterpart for highlighting Ukraine's outstanding successes in driving the Russian fleet away from our shores and relaunching the grain corridor.

Today, we discussed next joint steps to bring Ukraine's victory closer. pic.twitter.com/KqDaZnHFHI

— Dmytro Kuleba (@DmytroKuleba) November 16, 2023
The Minister of Foreign Affairs of Ukraine thanked his UK colleague for his words that the United Kingdom is impressed by Ukraine's successes in the Black Sea and will increase its support for Ukraine.
"Wait for more news to come on the UK-Ukrainian relations towards our victory," Kuleba said.
The former Prime Minister of the United Kingdom, David Cameron, assumed the post of the country's Foreign Secretary on November 13.