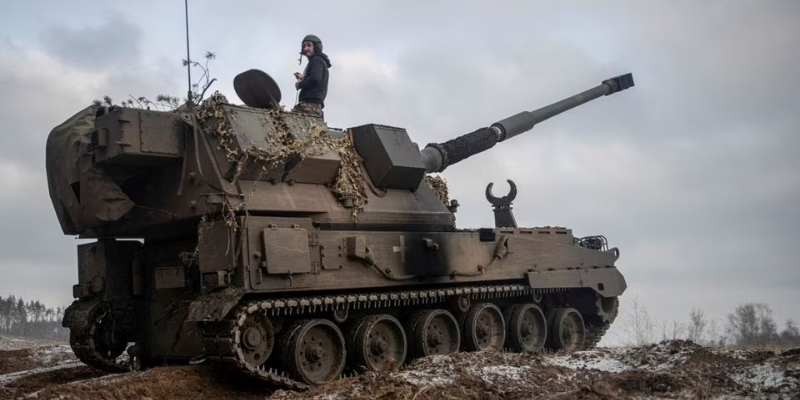 On Wednesday, a defense acquisition official in Seoul told Reuters that South Korea's government approved export licenses for Poland last year to provide Ukraine with Krab howitzers, which are built with South Korean components.
According to Reuters, it is the first confirmation that South Korea officially acquiesced to at least indirectly providing weapons components to Ukraine for its war against Russia.
The Defense Acquisition Program Administration's (DAPA) technology control bureau reviewed and approved the transfer of the howitzer's South Korean-made chassis, said Kim Hyoung-cheol, director of the Europe-Asia division of the International Cooperation Bureau.
He later stressed that the government's stance is to not transfer weapons systems to Ukraine.
Produced by Poland's Huta Stalowa Wola, the Krab is a self-propelled howitzer that combines a South Korean K9 Thunder chassis, a British BAE Systems turret, French Nexter Systems 155mm gun, and a Polish fire control system.
Following Russia's invasion in February last year, Poland sent 18 Krabs to Ukraine in May, and the two countries have signed orders for dozens more.
On Jan. 30, NATO Secretary-General Jens Stoltenberg asked South Korea to reconsider its rule on not exporting weapons to countries in conflict, so it could help arm Ukraine in repelling Russia's invasion.
"Several NATO allies who had as a policy never to export weapons to countries in conflict have changed that policy now," he said in Seoul.
South Korea has benefited from Europe's rush to rearm, signing a massive $5.8 billion arms deal with Poland last year for a hundred Chunmoo rocket launchers, K2 tanks, K9 self-propelled howitzers, and FA-50 fighter aircraft.
Kim said Poland would need further South Korean permission to provide any of those new weapons to Ukraine, according to Reuters.
Photo: Ukrainian servicemen prepare a Polish self-propelled howitzer Krab to fire toward Russian positions on a frontline in Donetsk Oblast, Ukraine, on Jan. 17, 2023. REUTERS/Oleksandr Ratushniak