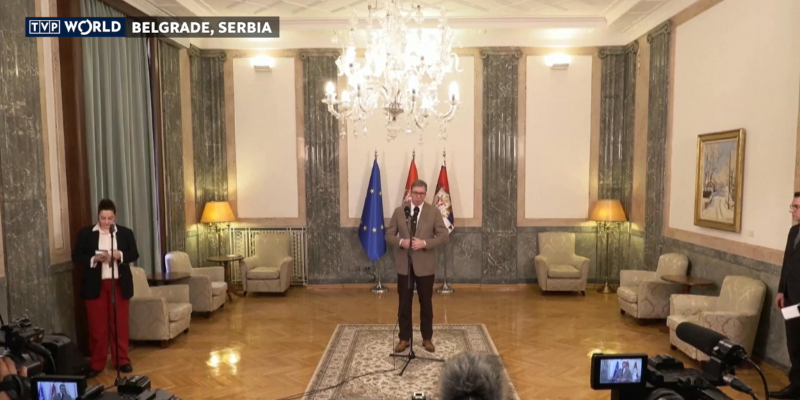 The ongoing war in Ukraine is putting a strain on the relationship between Russia and one of its closest allies in Europe, Serbia. Serbian President Aleksandar Vučić, who previously had regular contact with Russian President Vladimir Putin has now distanced himself from Moscow's actions in Ukraine, Poland-based TVP World reports, referring to Bloomberg and Reuters as sources.
In a recent interview with the press, Vučić dismissed Putin's territorial claims in Ukraine while also predicting that the conflict is far from over, stating that the "worst is yet to come" as both sides dig in. He also revealed he hadn't spoken with Putin for many months.
Vučić emphasized that Serbia cannot and will not support Russia's invasion of Ukraine, stating, "For us, Crimea is Ukraine, Donbas is Ukraine, and it'll remain so." This statement is a significant shift in Serbia's position since Putin's invasion of Ukraine almost 11 months ago.
Historically, Serbia has sought to balance its geopolitical and economic interests between East and West, but these comments underline a gradual shift towards the West.
Serbia's reluctance to join the United States and the European Union in imposing sanctions against Russia has put the country under increased pressure to cut ties with Putin and his energy supplies, even as the war has hit the economy and sent inflation soaring.
Vučić clarified that it would be wrong to assume that his government fully endorses the leadership in Moscow, stating "We are not always jubilant about some of their stances. We have a traditionally good relationship, but it doesn't mean that we support every single decision or most of the decisions that are coming from the Kremlin."
Despite the shift in the relationship, Serbia still stands out in Europe, along with Hungary, for its position on Russia. Its national airline still maintains routes to the country and Belgrade is a destination of choice for Russians, albeit more recently exiles fleeing Putin's regime. A poll taken last summer showed that Putin was the most favored world leader among Serbs.
However, Vučić has taken a firm stance against the recruitment of Serbian nationals by the Russian mercenary group Wagner to fight in Ukraine. He stated in the interview, "Wagner will not do that in Serbia," citing laws that prevent it.