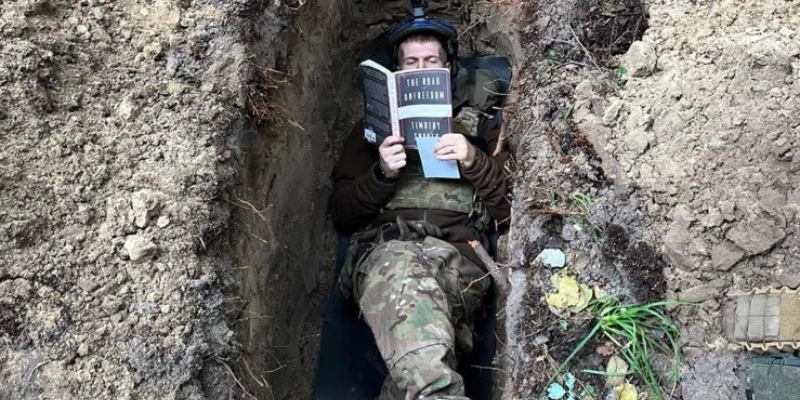 Historian Timothy D. Snyder published on Twitter a photo of a Ukrainian defender reading one of his books in a trench. "The highest honor for the author is the reader," Snyder tweeted in Ukrainian.
Ukrainians defending their country are incredible. When not fighting the occupier, they teach at universities, write poetry, study languages, interview with foreign media and engage in self-education. A photo of a Ukrainian defender reading "The Road to Unfreedom" book by Dr. Timothy Snyder quickly went viral. The Yale professor's tweet gathered 1.5 million views in less than a day. Dr. Snyder's social media post in Ukrainian shows that Ukrainian content can, is, and will be hot!
The book "The Road to Unfreedom" analyzes the transformational processes in Ukraine, Europe, and Russia from 2011 to 2016. In particular, the book focuses on the Revolution of Dignity, the annexation of Crimea, and Russia's invasion of Donbas.
As a reminder, Dr. Timothy Snyder has been publishing the episodes of the video course "The Making of Modern Ukraine." The course is available free on YouTube.
We thank the outstanding modern historian for his significant contribution to the future victory of Ukraine!
найвища честь для автора – читач pic.twitter.com/yWAzsASKEQ

— Timothy Snyder (@TimothyDSnyder) January 2, 2023