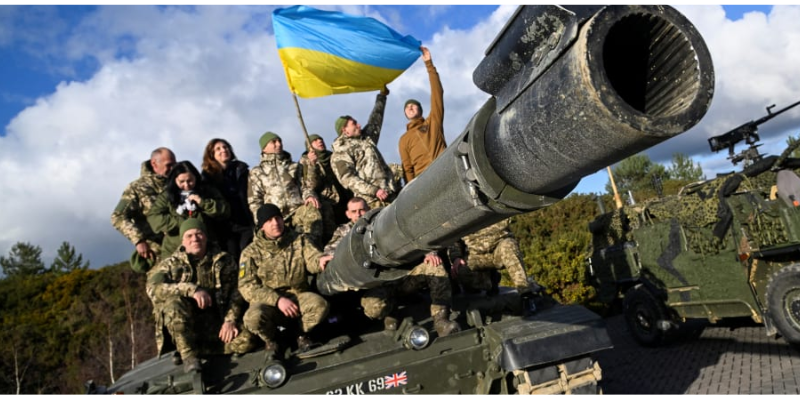 The U.K. Ministry of Defense (MoD) has confirmed that the squadron of Challenger 2 main battle tanks Britain is sending to Ukraine will come with shells containing depleted uranium. It added that this is "standard" and has been used for decades. Meanwhile, Russia says it will have to "respond accordingly" to the "nuclear component" involved, according to Sky News.
"Alongside our granting of a squadron of Challenger 2 main battle tanks to Ukraine, we will be providing ammunition, including armor-piercing rounds which contain depleted uranium. Such rounds are highly effective in defeating modern tanks and armored vehicles," Minister of State for Defense Baroness Annabel Goldie said, answering a question on the U.K. Parliament website.
The United Kingdom accused Russian President Vladimir Putin of deliberately spreading false information after he condemned the plan to send such shells to Ukraine while hosting Chinese leader Xi Jinping, talking about a "nuclear component" and warning in his usual nuclear saber-rattling manner that he would retaliate.
MoD clarified that the British Army had used depleted uranium as a standard component in its ammunition for decades. It is a and has nothing to do with nuclear weapons or capabilities. "Russia knows this but is deliberately trying to disinform," an MoD spokesperson said.
"Independent research by scientists from groups such as the Royal Society has assessed that any impact to personal health and the environment from the use of depleted uranium munitions is likely to be low," the spokesperson added, apparently responding to the Kremlin's claims that the use of such shells would pose a health and environmental threat.
Ironically, Ukrainian experts point out that Russia has been using rounds with depleted uranium on battlefields in Ukraine. The Ukrainian forces have even taken some of them as trophies in the war, according to BBC.