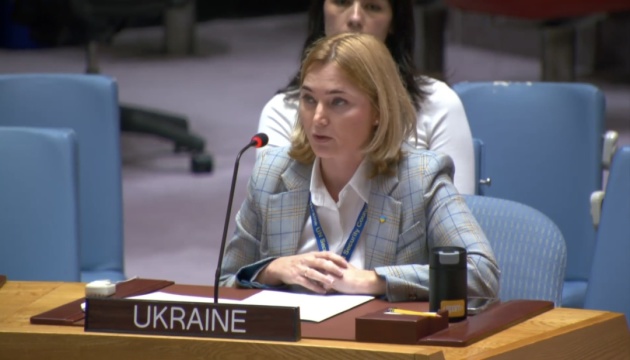 Russia is destroying Russian Orthodoxy in Ukraine, hiding behind the protection of the Ukrainian Orthodox Church of the Moscow Patriarchate, said Natalia Mudrenko, an adviser at the Permanent Mission of Ukraine to the United Nations, during a meeting of the UN Security Council. Mudrenko's statement came after Russia accused Ukraine of persecuting the Russian church in Ukraine.
"Moscow has once again used the Council's platform to promote the interests of the Russian Orthodox Church. That Church has been responsible for providing ideological support of the aggression and its leader, Kirill Gundyayev, has translated military propaganda narratives in tune with the Kremlin," Mudrenko said.
Mudrenko stated that Russia is stealing Ukrainian dioceses, churches, and property, and the Russian Orthodox Church is involved in the occupation. Last year, Russians seized all three Crimean dioceses of the Ukrainian Orthodox Church of the Moscow Patriarchate. This year, in July, three more dioceses in Luhansk, Alchevsk, and Rovenky were taken.
"These actions were taken against the very church whose rights the Russian delegation pretends to protect by requesting this meeting," the diplomat emphasized.
Furthermore, Patriarch Kirill of the Moscow Patriarchate instills in Russians the belief that the war against Ukraine is a "god-pleasing cause."
"He does not waste time preaching about peace and does not refer to biblical commandments like 'thou shall not kill' but directly calls for mobilization. In particular, he calls on the church to 'pray for the authorities and the military and also be on the front lines,'" Mudrenko said.
At the same time, Russian priests who try to speak about peace as the main value face internal church repression, the adviser to the Permanent Mission of Ukraine to the UN added. The Russians have spread to the occupied territories the repressive practices that have long existed in Russia.
The recent data shows that more than 500 religious facilities in Ukraine have been damaged, with 100 of them completely destroyed. In early November, Ukraine accused Patriarch Kirill (Gundyayev) of the Russian Orthodox Church of justifying Russia's armed aggression, constituting an attack on Ukraine's territorial integrity and inviolability.