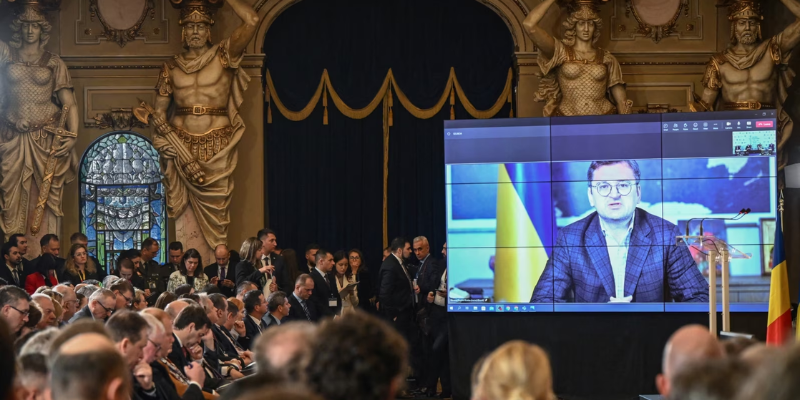 At the First Black Sea Security Conference, held in the Romanian capital Bucharest on Thursday, Ukraine's defense and foreign ministers called for NATO to increase its involvement in safeguarding the region's security and suggested concrete steps to restore sustainable peace order both regionally and globally.
"The Black Sea is instrumental for making the whole of Europe peaceful and future-oriented," Foreign Minister Dmytro Kuleba, speaking via video link, said, as quoted by Reuters. "Sadly, it is also a showcase of how rapidly things can deteriorate if one neglects threats. It's time to turn the Black Sea into what the Baltic Sea has become, a sea of NATO."
He suggested that NATO integrate Ukraine's air and missile defenses with those of alliance members.
"We need to address the common Russia problem together," Kuleba said. "For instance, I support the expert idea to integrate the air and missile defense systems of Ukraine with the ones of the Black and Baltic Sea NATO allies."
According to Defense Minister Oleksiy Reznikov, if the Russian aggression against Ukraine succeeds "at any level, not just our region but the world at large will be a very dangerous place indeed. Because there will be a huge temptation for other aggressors."
In this context, he suggested five concrete steps to take for a future general security configuration:
First, change the paradigm. Act fast and preventively, staying "a step ahead instead of merely reacting after the fact."
"We should not be afraid of using force and strong sanctions. Aggressors should recognize that they will not manage to obtain the result but will suffer colossal damages."
Second, set up a system of guarantees that would make aggression from Russia impossible. "At present, there are no alternatives to the NATO formula. Three countries in the region are already NATO members. There is no alternative to Ukraine's accession to NATO. The allies' security infrastructure needs to be scaled up to the east. Ukraine has already proven its interoperability. Ukraine has already made its move by formally applying to join NATO."
Third, liberate Crimea. Otherwise, "any talk about regional security is nothing more than an illusion."
"As long as Russia controls Crimea, it will continue trying for an expansion in the imperial spirit. If you want security, stability and prosperity for the region, Crimea needs to be liberated. It is in our shared best interests."
Fourth, transform Russia into a democracy. "We need to recognize honestly that accomplishing sustainable peace and preconditions for future prosperity in the region is impossible without transformation in Russia. Without their transformation, we are just postponing dealing with the problems instead of solving them."
Fifth, support Ukraine comprehensively and quickly. "Time is an asset. Prolonging or freezing the war will mean that the progress of the entire region will stop. It will mean lost opportunities. Meanwhile, others will keep marching forward."
"Ukraine wants to turn the tide on the battlefield this year […], and our army has already proven that this is possible. In order to do so, we need help and we need it as soon as possible." As a general framework, such support must include the delivery of weapons and ammunition of diverse types, training of Ukrainian military units, increasing the level of exchange of information, strengthening the sanctions regime and deepening the interoperability of Ukrainian units and those of its partners.
In the wake of the conference, Ukraine, Moldova and Romania signed a joint declaration of cooperation. According to UNN, the document covers cooperation issues in the economy, infrastructure, defense, culture, security and integration into the European Union.
Photo: AFP via Voice of America
"The Black Sea remains a region of strategic importance for the European continent and the Euro-Atlantic region. Countries will continue to work together to support the rights of states to freely choose their foreign policies and alliances, to exercise their right to self-defense, and to strengthen resilience and stability, security and prosperity in the region," the declaration reads.
Photo: AFP via Voice of America