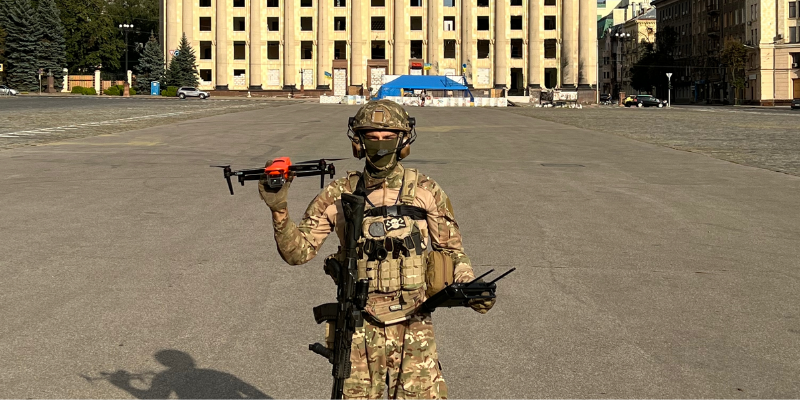 By Neil Camilleri and Liza Kozlenko
In Kharkiv, the Ukrainian World Congress (UWC) spoke with a drone operator nicknamed 'Bob Sala', member of the 247th Kharkiv Territorial Rifle Battalion. Bob Sala explained how drones are a Ukrainian defender's best friends. Bob Sala provided real-life examples of how drones help Ukraine's defenders prevent ambushes, use artillery more accurately, rescue wounded on the battlefield, support demining operations and save the lives of countless civilians. 
Bob Sala leaves us with one important request: send more drones ASAP. 
100 Ukrainian soldiers' lives saved by drones
Bob Sala begins explaining the advantages, "My motto is: If drones save lives, I'm ready to invest in them and save these lives. If a drone breaks,  we replace them. We cannot do the same with our soldiers. "
He recounts one particular mission, supporting a squad of Ukrainian soldiers approaching a target.  With his drone, he spotted a group of enemy motorized infantry moving towards the Ukrainian soldiers on a BTR armored personnel carrier. He warned his colleagues in time.
The Ukrainians not only avoided the ambush, but also neutralized several enemy combatants. "This shows how drones can help us save our peoples' lives while also taking the enemy out." Bob Sala reckons that up to one hundred Ukrainian soldiers – the total strength of the unit involved – were saved.

Drones help capture and confuse enemy combatants
In Kherson, drones were used in an unconventional but effective way to compel enemy soldiers to surrender. Ukrainian forces deployed drones equipped with speakers that broadcast orders to surrender. Surprisingly, three Russian soldiers threw down their weapons and walked right into Ukrainian captivity! "This shows how drones can be used not only to save Ukrainian lives but also to capture Russian soldiers, who will be able to testify against their criminal government at a later stage." In other incidents, terrified Russian soldiers flee their positions when they hear sounds of drones flying above.
$3000 drones save entire cities
Bob Sala shared another story of a time when drones saved Kharkiv from a massive enemy assault.
He and fellow fighters used drones to spot and destroy a column of enemy multiple launch rocket systems heading towards Kharkiv. The enemy units were around 5km from the city of 1.4 million inhabitants with a firing range of 30km.
"If it wasn't for drones, I wouldn't be speaking to you now from Kharkiv because I think we would have been killed if that column wasn't destroyed. This is how drones save lives, not only military but the civilian ones, too. A drone which costs around $3,000 can save entire cities."
Bob Sala also recalled the famous story of the boy in Kyiv who used his drone to spot the 40-kilometer enemy column approaching Kyiv. "He informed our military and gave them the map coordinates and around 100 units of equipment were destroyed."

Drones prevent friendly-fire incidents 
In another case, a colleague with a low-resolution drone mistook a group of friendly soldiers for the enemy.  Luckily, Bob Sala double checked the sighting using his more advanced drone and realized in time that these soldiers were Ukrainian.
"If I didn't have this drone with a good camera, we could have killed our own soldiers. Our mortar team had 20 rounds of ammunition at the ready and they would have fired on our own troops."
Drones make artillery more accurate with less danger 
Bob Sala explained that drones are an exceptional tool for aerial reconnaissance "as they allow us to see the targets without getting close and exposing ourselves to danger. The operator can simply fly the drone and observe the battlefield from a distance. He can then inform other units and tell them what kind of equipment needs to be used, such as heavy artillery."
Before the use of drones, artillery spotting took place in the old-fashioned way: forward observers watched where the artillery shells were falling and communicated to their batteries with the use of radios.  But to be successful, they had to get close to the enemy. Drones make this work much more efficient and safer. Both the operator and the spotter use their drones from a safer distance to see where the artillery shells are hitting to provide more accurate corrections.
"A few days ago, I was assigned to work with a unit using US-made M777 howitzers. The mission was successful because I could see where the shells were hitting and adjusted as needed. To be able to reach high levels of accuracy is important, especially when one considers that a single M777 projectile costs around $3,000, not to mention the wear on the gun barrels."
Drones take out enemies, save the wounded and help clear mines 
He gives another example of how drones can make a huge difference in the field. "Let's say an enemy machine gunner starts firing on one of our units. The operator can fly the drone from cover, using his Virtual Reality headset and can eliminate the enemy gunner. As a result, lives are saved, and the soldiers can continue working on their targets."
Drones are also used to find wounded soldiers on the battlefield and injured civilians in residential areas so that first responders and medics are sent to their exact locations.
They are also being used in demining applications. Sappers use them not only to identify enemy minefields and to clear areas from explosives. The drones are used to monitor the process, ensuring that all ordnance is safely disposed of from a distance, which means that the sappers do not have to go close to the danger.
Bob Sala: From a hobby to a military job
Becoming a drone operator was a natural choice for Bob Sala. Before the war, he worked as a security engineer with an IT company. He already used drones to film his travels abroad, like the time he filmed the Georgian mountains while holidaying there with his wife and dog.
Three years ago, he finished his army conscription service. When the full-scale war began in February of this year, he re-joined the army and was assigned to a Rapid Reaction Force. "However, I felt that this was not my calling, so I asked to study drone operating.
"Many factors coincided: my military experience, my work in the IT industry, and the fact that I already know how to fly drones and use them to film. I use all my experience and skills, and this helps me to perform my duty very well. Of course, I had to learn new things, such as avoiding radar and how to set up targets on the map. But I had a very demanding geography teacher and I know the geography of Ukraine quite well," he chuckles.
They prevail in quantity, but we prevail in quality
Bob Sala says the Ukrainian Armed Forces are using modern technologies which allow them to have better coordination between units, in his case, between drones and artillery units.
"Air reconnaissance units and HQ see everything, and information processing is of a very high level. They [enemy] prevail in quantity, but we prevail in quality," he proudly states.
He adds that software developed by Ukrainian forces saves operators hours of scanning footage recorded by their drones. The software goes through the footage, identifying any targets caught on camera.
But the human element – the drone operator – remains an essential part of the system. "The operators are the 'eyes' which provide the artillerymen with air reconnaissance data which save lives. If the eyes don't see, people will be killed. With the usage of drones, our army's efficiency has increased by 60%."
Never enough drones – he lost five in the last week
Bob Sala says there is currently a big problem with the supply of drones, which now have to be purchased from abroad. "If we have better drones with better zoom, we will be able to perform better reconnaissance, save more lives and win in this bloody war with Russia."
"We have good eyes in the sky, and we can see everything. We can save countless lives using such technology."
But more drones are critical, he says, adding that drones are often lost on the battlefield through enemy activity. "Five of my drones got damaged or destroyed during the last five days. I repair them using my own money, just to be able to get the work done. My last remaining drone went out of operation today. I was planning on doing an aerial reconnaissance of a big area so that we would be able to strike new targets tomorrow, but I cannot do that right now because my last drone is damaged and there are no parts available. This is a very big problem."
Help us win. Russia will not stop at Ukraine
Bob Sala says helping Ukraine win this war is vital for Ukraine and Europe's future. He believes that Russia will not stop at Ukraine. "If you read the history of the Russian Federation, you will understand a lot. For example, Germany didn't stop after the occupation of Czechoslovakia, Belgium and France. It went further. Russia will do the same. So, if the people of the West don't want to see the face of war, they should donate either money or drones to Ukraine."