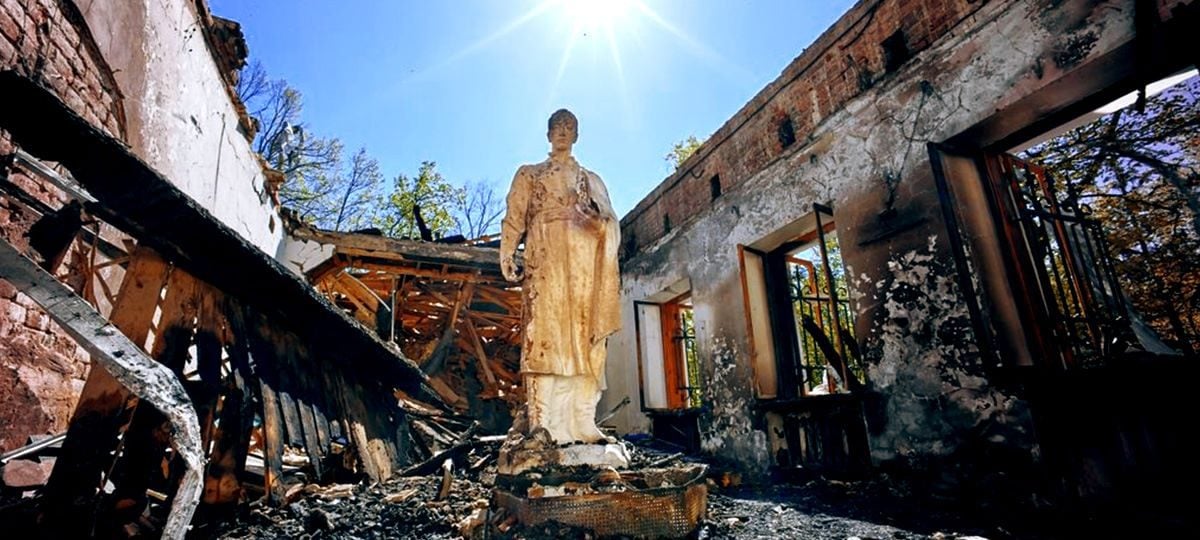 Today, Ukrainians around the world celebrate the 300th birthday of the renowned Ukrainian philosopher, poet, educator and humanist Hryhoriy Skovoroda, known in his lifetime as "the Ukrainian Socrates."
Skovoroda's works and views, and his uncompromising advocacy of individual human freedoms and universal liberty, had an enormous impact on his contemporaries and subsequent generations of Ukrainians, and remain relevant to this day.
In his works, Skovoroda explored issues of ethics and self-discovery in simple and understandable language, rejecting all forms of subjugation in favor of personal spiritual freedom. He believed that a happy person is one who lives in harmony with themselves, who is engaged in their labor of love, and who independently determines their destiny. In Ukraine, many of his philosophical poems have been set to music.
Hryhoriy Skovoroda is truly one of the personifications of the Ukrainian national spirit and worldview, in which freedom is a fundamental and universally-accepted value; therein lies the "secret" of his popularity 300 years later.
Many believe that Skovoroda was a mystic. We can't know for sure, but the historical record shows that the philosopher knew the exact date of his death, prepared his own grave, and requested that his tombstone be engraved with the following epitaph, the words of which have since become immortal: "The world pursued but did not catch me." 
The "russki mir" could not catch him either. It failed in his lifetime, when the Russian Orthodox Church branded Skovoroda a "heretic" and sought to excommunicate him, and it failed after his death, when russian state propaganda attempted to portray him as a "russian philosopher," but failed to make him fit into russian culture.
The russian occupiers failed to catch Skovoroda in our days as well. During their invasion of the Kharkiv region in the spring and summer of 2022, russian forces first destroyed the Skovoroda Museum in the village of Skovorodynivka with missile strikes, followed by the destruction of the Skovoroda National Pedagogical University in Kharkiv.
In #Kharkiv, a RU missile damaged a monument to great UA philosopher Hryhoriy Skovoroda. He once said: "The world tried to catch me but failed". Well, now the occupiers tried to destroy Skovoroda, but they failed! 😂 The statue was found in the rubble. 🇺🇦 heritage is saved!✌️ pic.twitter.com/OLf4N6HYox

— Ukrainian World Congress 🇺🇦 (@UWCongress) July 8, 2022
In both locations, the monuments to the outstanding Ukrainian philosopher were recovered from the rubble, miraculously unscathed.
RU war criminals destroyed a Museum of Hryhoriy Skovoroda near Kharkiv by a direct missile hit. Here the greatest 🇺🇦 philosopher and national hero lived and worked during the last years of his life in late 18th cen. In 2022, Ukraine commemorates Skovoroda's 300th anniversary pic.twitter.com/mf9XZAhW2l

— Ukrainian World Congress 🇺🇦 (@UWCongress) May 7, 2022
In contemporary Ukraine, Skovoroda has emerged as yet another symbol of the Ukrainian nation's determination in the face of russian military aggression.
Hryhoriy Skovoroda joined the ranks of indomitable Ukrainians 300 years ago, and continues marching to victory together with the entire Ukrainian people. Freedom cannot be stopped!