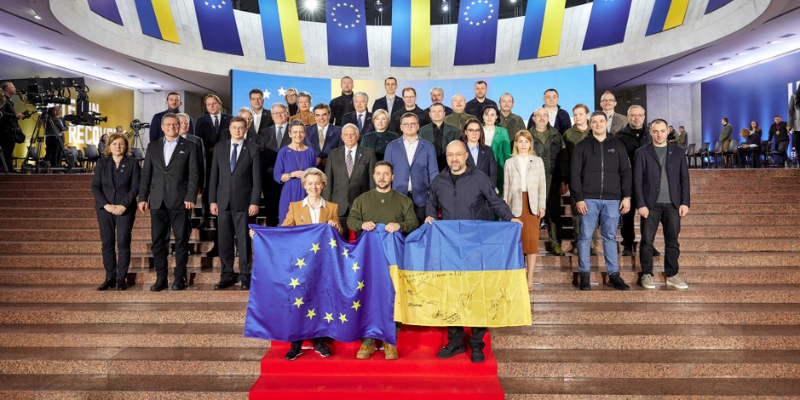 Kyiv, Ukraine – February 4, 2023 – Following a historic and symbolic EU-Ukraine summit in Kyiv, the Ukrainian World Congress (UWC) calls on the EU leaders to implement the necessary legal mechanisms needed to accelerate Ukraine's accession to the bloc.
"Despite Russia's continuous missile attacks on Ukraine, I congratulate the courageous leadership of Charles Michel, President of the European Council, Ursula von der Leyen, President of the European Commission, and Volodymyr Zelenskyy, President of Ukraine, for their historical meeting in Kyiv today for the 24th EU-Ukraine Summit," stated UWC President Paul Grod.
This EU-Ukraine summit is the first since the start of the full-scale Russian invasion of Ukraine and since June 2022, when the European Council granted Ukraine the status of an EU candidate country. Its primary purpose is to evaluate Ukraine's progress on membership-bound reforms.
"Ukrainians have demonstrated amazing determination on their path of European integration and their strong commitment to the EU's fundamental values of respect for human rights, freedom, democracy, and the rule of law. Today they are doing impressive work by thoroughly and successfully implementing the required pro-European reforms and at the same time fighting a brutal and genocidal Russian invasion," stated Grod.
UWC applauds the statements by Ursula von der Leyen, President of the European Commission, that the "future of Europe is being written in Ukraine" and that "the day when Ukraine became a candidate country was a new beginning for Ukraine, but it was also a new beginning for the EU."
"With Ukraine's accession, the European Union will become much stronger and united. We call on the EU to accelerate Ukraine's path toward full-fledged EU membership. This step will send a clear message to Putin that Europe is united with Ukraine and will stimulate Ukrainians to implement further reforms to help Ukraine build back better," Grod added.