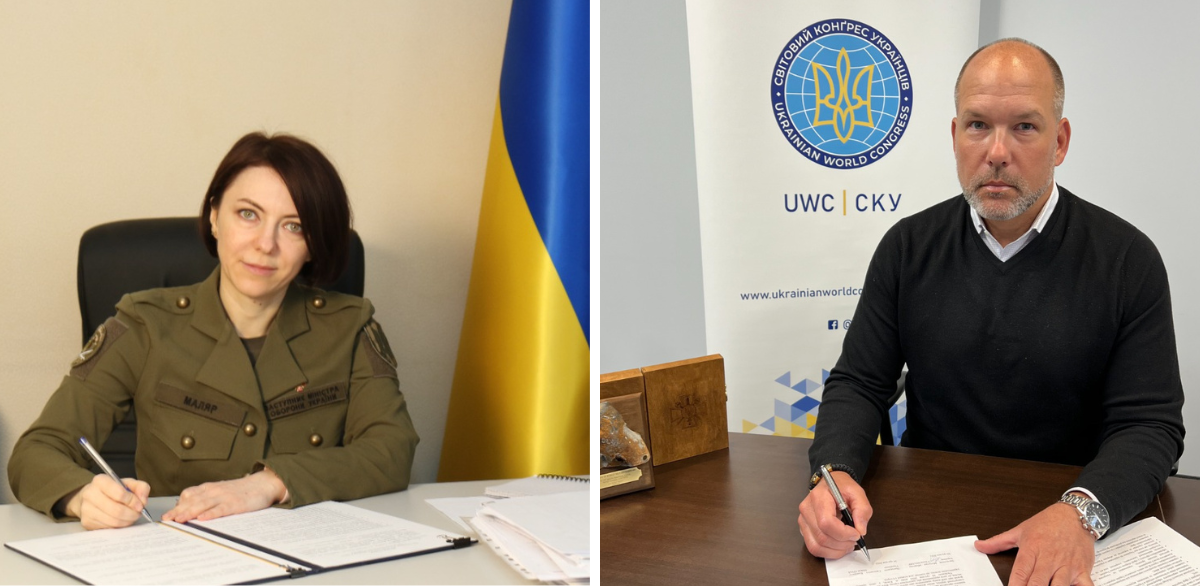 January 10, 2023, KYIV-TORONTO – The Ukrainian World Congress (UWC) entered a comprehensive Memorandum of Cooperation with the Ministry of Defense of Ukraine (MoD). This document expands and formalizes the current level of cooperation and support UWC has been providing (MoD) since 2014 when Russia first invaded Ukraine and the more recent enhanced support from the beginning of Russia's full-scale invasion of Ukraine.
It creates a collaborative framework for developing Ukraine's unified defense information policy and collectively countering Russian disinformation worldwide.  The parties will cooperate in strategic communications and identifying support for the most urgent needs that UWC can deliver via its UniteWithUkraine project that do date has raised over $40 million in support to the defenders of Ukraine.
"A key area of cooperation will be countering Russian disinformation around the world.  Moscow invests considerable resources in spreading false narratives, intimidation, and inciting hostility against Ukrainians.  Russia has turned information into a weapon to distort the truth, manipulate democracies, cause divisions among nations and justify their genocidal war in Ukraine and violation of the international rule of law and the global security order.  Please help by generously donating the UWC's Unite With Ukraine campaign so we can counter Russia's global disinformation campaign and support the brave women and men on the front lines of freedom in Ukraine," stated UWC President, Paul Grod.
Deputy Minister of Defense Hanna Malyar thanked the leadership and members of the Ukrainian World Congress and "all Ukrainians and friends of Ukraine around the world" for their unwavering support of Ukraine in defending against Russia's inhumane aggression.
"Our strategy is to speak the truth with one voice worldwide. And we will continue to do so for the international community to have a clear and objective idea of the events happening in Ukraine. So that the whole world knows about the heroic struggle of the Ukrainian nation for its existence," stated the Deputy Minister of Defense.
As part of this project, UWC will cooperate and provide comprehensive support to the Defense and Security Forces of Ukraine's leading media platform, the Military Media Center. Established in August 2022, the Center provides a coordinated information platform for Ukraine's defence and security forces.