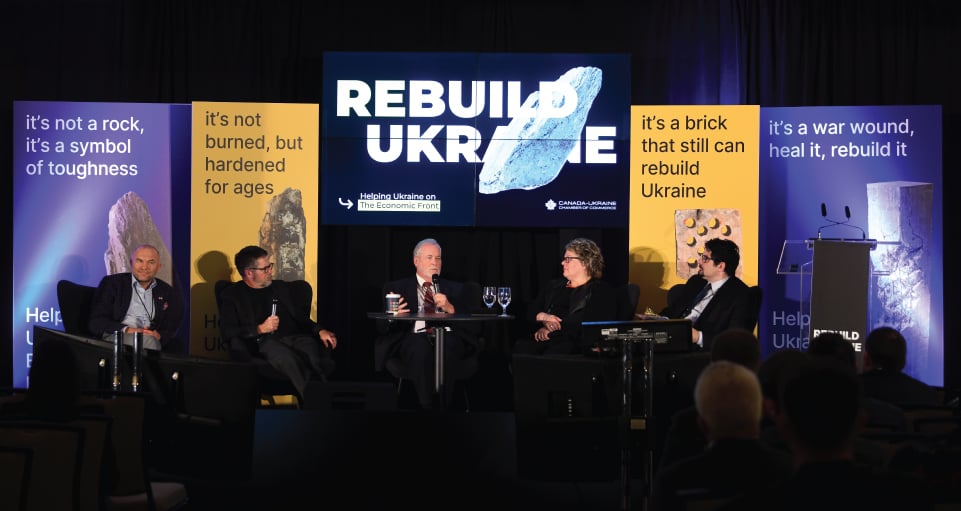 Paul Grod, President of the Ukrainian World Congress, is scheduled to address the Rebuild Ukraine Business Conference 2023. This conference aims to deliberate on the reconstruction efforts for Ukraine post the Russian-initiated full-scale war. Set to occur on November 21-22, 2023, the event will convene in Toronto, Canada.
During the Rebuild Ukraine Business Conference, various investment initiatives focused on revitalizing and advancing Ukraine's agriculture, construction/infrastructure, energy, and healthcare sectors will take center stage. The event aims to spotlight the range of tools and resources available through entities like the IFC, EBRD, and EDC, providing support for Canadian firms keen on investing in Ukraine. Additionally, success stories from Canadian businesses already operating in Ukraine will be featured, showcasing their accomplishments.
The UWC President, Paul Grod, is set to participate in the conference's energy panel, where he will introduce the UWC's Energize Ukraine initiative. This project entails collecting equipment to restore Ukraine's energy infrastructure and subsequent deployment to aid in its reconstruction. Additionally, the initiative encompasses financing endeavors directed at establishing microgrids across Ukraine.
As experts, Oleksandr Kamyshin, the Minister of Strategic Industries of Ukraine; Oleksandr Bornyakov, Deputy Minister of Digital Transformation for IT Development; Sergiy Tsivkach, CEO, UkraineInvest; Natalka Cmoc, Ambassador of Canada to Ukraine; Yuliya Kovaliv, Ambassador of Ukraine to Canada; Goldy Hyder, President & CEO, Business Council of Canada; and Todd Winterhalt, Senior Vice President, Export Development Canada will join the event.
The collaboration for this event involves the Embassy of Ukraine in Canada, working alongside the Embassy of Canada in Ukraine, the Canadian-Ukrainian Chamber of Commerce, the Business Council of Canada, UkraineInvest, CEO Club Ukraine, and various government entities. The UWC traditionally provides its support for the conference.