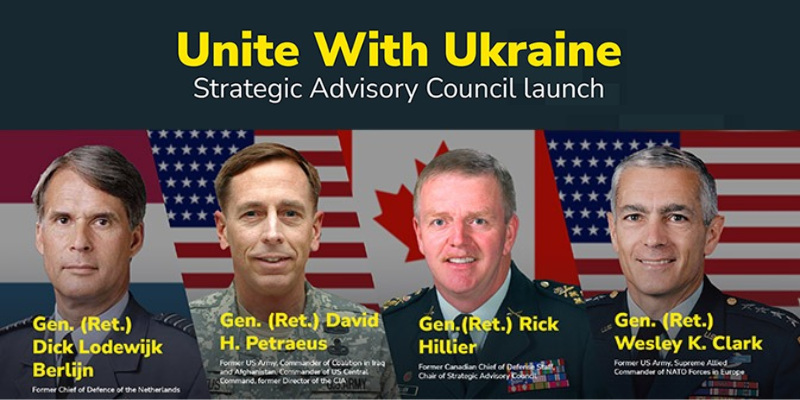 The Ukrainian World Congress (UWC) introduced the members of the newly-formed Strategic Advisory Council (SAC) at a press conference today. The SAC is comprised of four of the world's most prominent retired military leaders, who have joined forces to provide support and advice to UWC's "Unite with Ukraine" campaign. Bringing their unparalleled experience in warfare and strategic planning to our team are:
General Rick Hillier, Retired, Canadian Chief of Defense Staff, (SAC Chair)
General Wesley K. Clark, US Army Retired, Supreme Allied Commander of NATO Forces in Europe
General David H. Petraeus, US Army Retired, Commander of Coalition Forces in Iraq during the Surge, Commander of US Central Command, Commander of Coalition Forces in Afghanistan, and former Director of the CIA
General Dick Lodewijk Berlijn, Retired, Chief of Defense of the Netherlands
The SAC has set a goal of providing 100,000 Territorial Defense Force fighters with lifesaving protective gear, including helmets, body armor, ballistic eyewear and medical kits.
General Hillier, the chair of the council, was in Ukraine in early June where he met with Minister of Defense Oleksii Reznikov, senior military advisors and officers, as well as the territorial defenders themselves "If you don't have a tourniquet on the frontline, you will bleed out and die. I witnessed first-hand the challenge Ukrainians are facing in trying to protect themselves so they can keep fighting. Many have purchased their own gear or scraped together whatever they can, but it's not enough. The 'Unite With Ukraine' campaign has provided some of this vital equipment and we are determined to continue this mission so that the defenders of Ukraine can defeat the Russian army," said Hillier. "Ukrainians are fighting for their freedom and, ultimately, for ours too," he continued.
The military experts have come together to support UWC's "Unite With Ukraine" platform which is raising funds around the world to procure equipment. Their preeminent expertise will guide SAC in procuring and delivering urgently-needed equipment to the frontlines.
"It comes down to organizations exactly like this one who are harnessing civilian power in the West and our financial resources to support the brave men and women who are fighting for all of us in Ukraine," said General Wesley Clark. General David Petraeus noted that "at this decisive time, the world needs to maintain visibility and awareness and support the Ukrainian forces and Ukrainian government. And keep this specific war on the front pages of our newspapers and posts in social networks."
General David H. Petraeus, US Army (Ret.), former Commander of Coalition Forces in Iraq during the Surge, Commander of US Central Command, and former Director of the CIA, emphasized that "This is a crucial time in which we need to maintain visibility, awareness and support of Ukrainian forces and the Ukrainian government. We have to keep this particular war on the front pages of our newspapers and social media posts."  David Petraeus added that the armament of Ukraine should only increase: "I believe strongly that we should advocate for providing everything that they can employ effectively to defend their country and indeed to take it back from the Russians."
"These people are miners and mothers, bakers and bankers. They are ordinary people like you and me who never imagined they would be risking their lives on a battlefield to defend their homes," said Paul Grod, President of the Ukrainian World Congress. "The atrocities they have had to witness and the violence that has been forced upon them for no reason is shocking. We have been doing everything possible to raise funds to procure and deliver this vital protective equipment and we are extremely grateful to our newly formed Strategic Advisory Council who are going to bring a new level of expertise and capability to our campaign. It is an honor to have them on board."
Learn more about SAC's detailed plans from the press conference video: