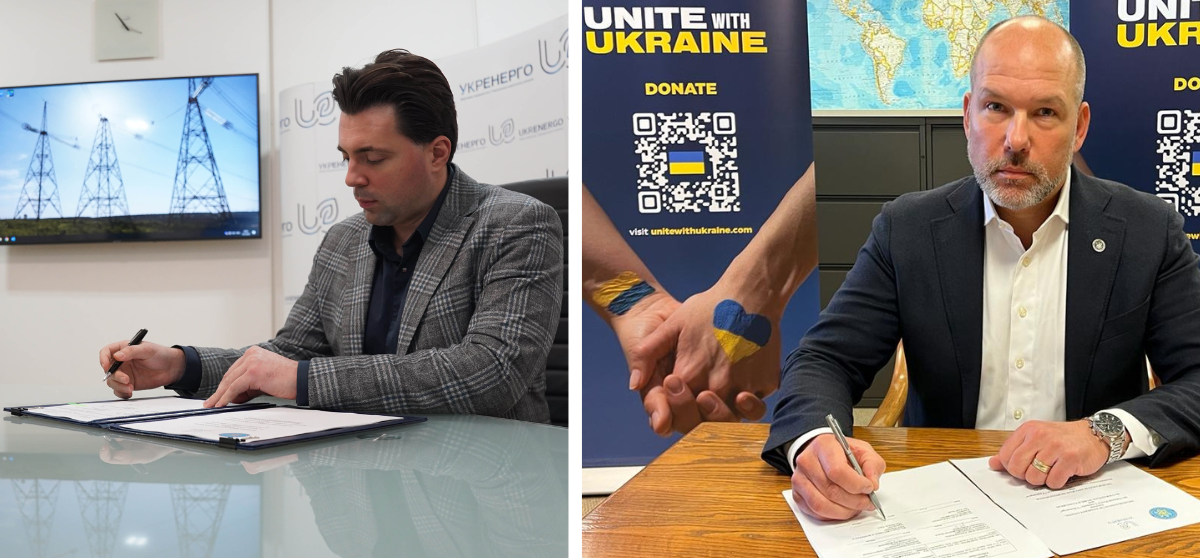 January 25, 2023 – The Ukrainian World Congress (UWC) and the National Power Company "Ukrenergo" (NPC Ukrenergo) today announced their partnership in UWC's "Energize Ukraine" initiative to identify, procure, and deliver equipment to repair Ukraine's power grid. A Memorandum of Understanding was signed today by UWC President Paul Grod and NPC Ukrenergo's Chairman of the Board Volodymyr Kudrytsky. 
According to NPC Ukrenergo, equipment for 220-750 kW high-voltage networks is essential to restoring normal operations of the country's electrical transmission system, which has been targeted by 14 separate enemy missile attacks, and sustained damage at a level that is unprecedented in global energy industry history.
"Unable to win on the battlefield, the russian terrorist state resorts to the brutal shelling of Ukraine's energy infrastructure. The russian invaders are trying to destroy the country's economy, inflict a humanitarian catastrophe, and make Ukrainian cities uninhabitable. We will not let them realize their criminal plans. Today, the global Ukrainian community joins forces with NPC Ukrenergo to provide the Ukrainian energy industry with the equipment it critically needs to ensure stable operations at this most difficult time," said UWC President Paul Grod.
NPC Ukrenergo has previously secured technical support from partner countries on three continents. "This is a powerful energy coalition that opposes the aggression of a country that will soon become an outsider in energy," the company notes.
"Energize Ukraine" is UWC's global initiative whose goal is to provide immediate assistance for Ukraine's rebuilding of critical energy infrastructure, which has been destroyed by russia's massive and merciless missile attacks; more than 40% of Ukraine's infrastructure has been damaged.
NPC Ukrenergo operates Ukraine's power transmission system and has ENTSO-E observer member status; it manages and administers payments for Ukraine's unified electrical network by generating, transmitting and distributing electricity from the national power grid to local distribution networks.
National Power Company Ukrenergo is a private joint stock company with 100% state-owned shares, managed by the Ministry of Energy of Ukraine. Ukrenergo is a certified in accordance with the ISO model and in compliance with the EU's Third Energy Package transmission system operator of Ukraine with the functions of operational and technological control of the Integrated Power System of Ukraine (IPS), transmission of electricity via trunk power grids from generation to distribution networks, as well as commercial metering administrator and settlement administrator in the electricity market of Ukraine.