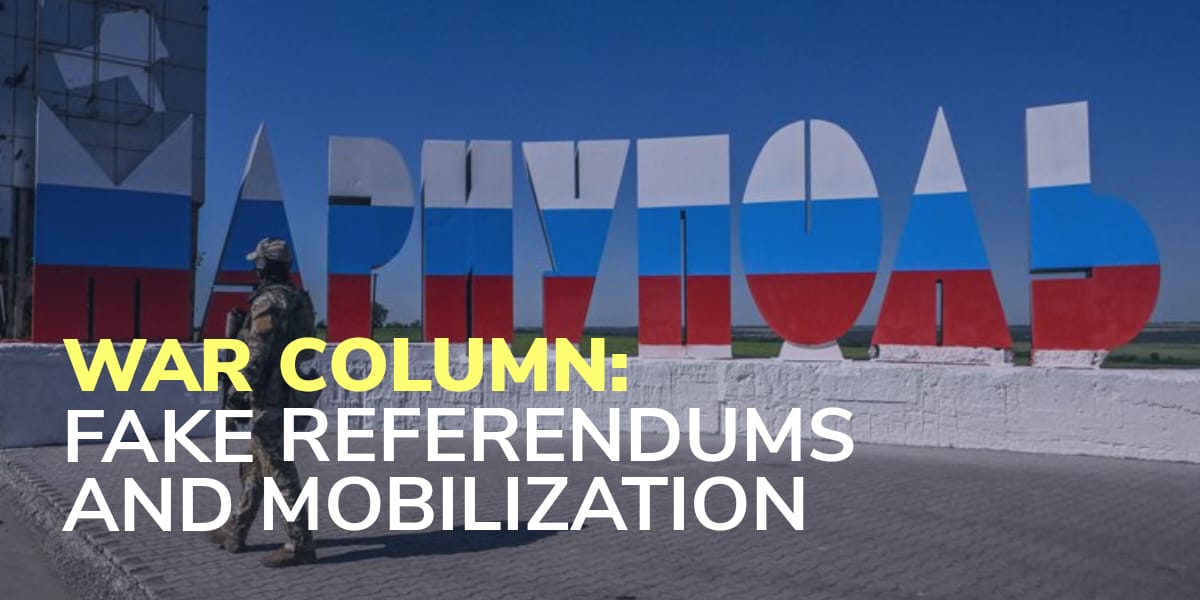 Fake referendums ramp up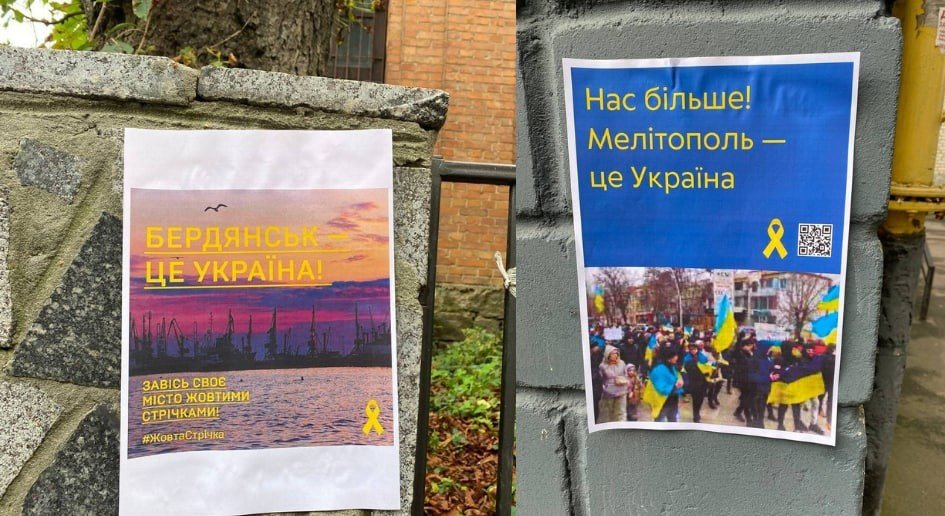 Anti-occupation activists post signs in Berdyansk, a city on the Azov coast .  On the left, a poster from the #YellowRibbon movement:  "Berdyansk is Ukraine.  Cover your city in yellow ribbons".  On the right, a flyer reads, "We are the majority!  Melitopol is Ukraine". Photo via
Twitter
The kremlin has ordered occupied territories to stage fake referendums starting Friday, soon to be followed by the announcement that occupied territories have chosen to be annexed by russia.  This is without a doubt a desperate measure to change the tempo of the war.  Fake referendums are an old tactic whereby russia pretends that citizens under occupation vote to join russia as a pretext to annexation.
Occupation authorities have tried for months to stage referendums but have been unable to pull it off, largely due to local opposition.
The General Staff reports, "The occupiers are creating armed groups to go to homes and force people to participate in the so-called 'referendum'. Preparations are being made for filming by propagandist mass media stories about the so-called active participation of local residents in voting."
The Group of Seven countries condemned Russia's pseudo-referenda show in occupied Ukrainian territories after meeting at the UNGA in New York and called on other countries "to unequivocally condemn any referenda and not to recognize the results," according to a statement released by German Foreign Minister Annalena Baerbock.
⚡️ "We never wanted to go to the Russian Federation", – settlers from Snihurivka appealed to the residents of the community to ignore the "referendum" pic.twitter.com/I1mJGKaSFS

— FLASH (@Flash_news_ua) September 23, 2022
"We, residents of Snihurivka, gathered today for a protest against the illegal holding of a "referendum" in the city of Snihurivka and nearby villages. Snihurivka region has always been and will be Ukraine. We have never wanted and will never want to join the Russian Federation.
"We call on the residents of Snihurika and nearby villages, the Snihurivska community, not to go to the referendum and not to participate in the illegal holding of the referendum. Glory to Ukraine!" – said people from Snihurivka."
RU mobilization blues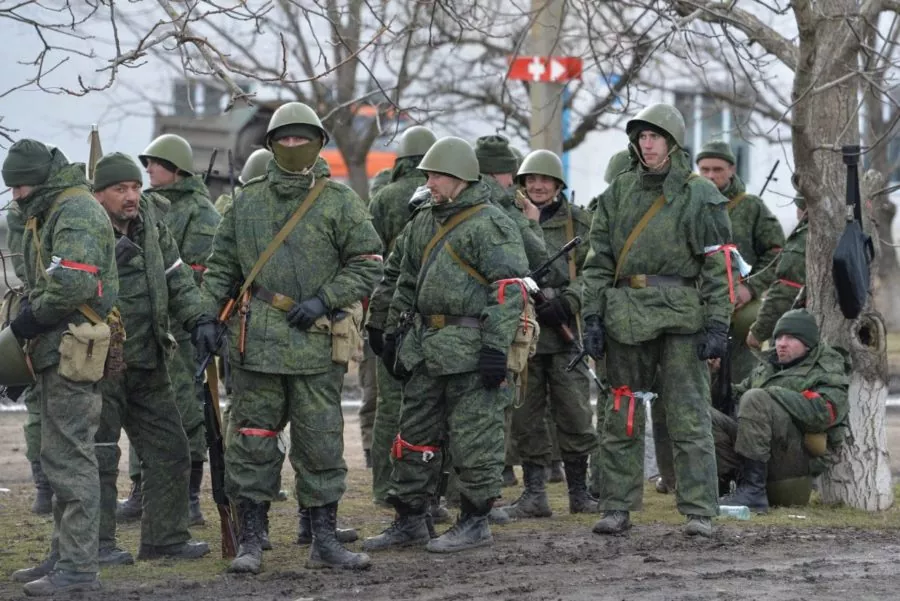 Above:  russia will likely force the conscription of the male population of occupied territories.  Ukraine is urging conscripts to give themselves up as soon as possible. Photo via Euromaidan Press
Along with the orders to proceed with fake referendums, moscow ordered the orderly and lawful mobilization of 300,000 russian citizens with military experience.  Working under the assumption that the tiny dictator is desperate to consolidate gains and staunch the bleeding, poorly equipped and untrained conscripts could be used to defend annexed territory.
Moscow's outline for the mobilization process was broken almost as soon as it was spoken.  According to the Institute for the Study of War, "Russian authorities are forcibly recruiting Russian citizens to fight in Ukraine on flimsy pretexts, violating the Kremlin's promise to recruit only those with military experience. Russian authorities are also demonstrably mobilizing personnel (such as protesters) who will enter the war in Ukraine with abysmal morale. The Kremlin's heavy-handed approach to partial mobilization will likely exacerbate domestic resentment of a measure that would have been unpopular even if implemented without the harsh approaches observed in the last 24 hours."
Local social media is already filling up with stories of forced mobilization of men in occupied territories.  The General Staff reported on Friday, "To replenish manpower losses, the enemy continues forced mobilization in temporarily occupied territories. Thus, in Horlivka, on September 19, representatives of the 1st Army Corps detained and took ten men to military service, regardless of their age or health.
"Between September 18 and 20 of this year, representatives of a russian private company unsuccessfully tried to recruit prisoners in the Luhansk pre-trial detention center.
"…the occupying authorities of Crimea stated that the main number of reservists is planned to be recruited from among the employees of private security companies who have military service experience. In Sevastopol, some firms have already been instructed to prepare lists of all employees subject to the requirements."