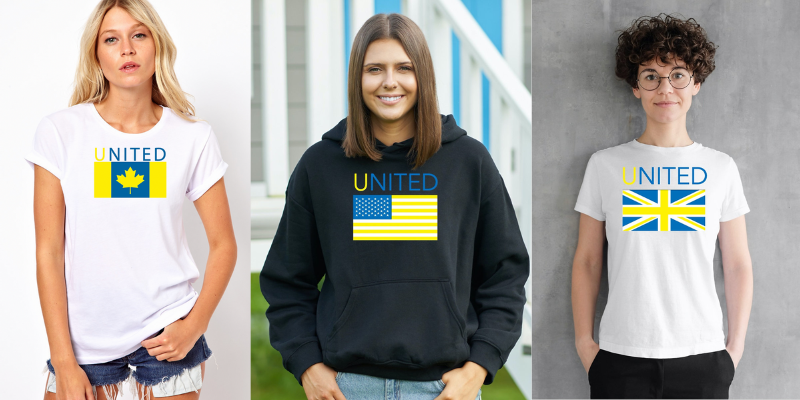 PRESS RELEASE
August 29, 2022
World Flags Repainted in Ukrainian Colors
Launch of exclusive clothing line in support of UWC efforts to helping Ukraine
[Montreal, Canada] – On August 24, 2022, Luc Chénier launched an exclusive clothing line entitled UNITED which depict world flags (Canada, USA, United Kingdom, etc.) repainted in Ukrainian colors. The launch date was also meant to coincide with Ukraine's Independence Day (August 24). Proceeds will be donated to the Ukrainian World Congress initiative 'UNITE with Ukraine' to help support Ukraine and its people.  www.younited-nations.com
 The UNITED merchandise initiative that merges international flags with Ukraine's colors is based on the 2016 Art Exhibition 'UNITED' by Luc Chénier which was inspired by the 2014 Revolution of Dignity on Maidan Square in Kyiv, Ukraine and how international countries rallied in support with Ukraine.
"The UNITED (Ukraine) flag concept is now stronger than ever in these tragic times. I felt its imagery would be best demonstrated across a clothing line where people could display/wear their own countries UNITY, SPIRIT, and most importantly SUPPORT in the form of DONATIONS to Ukraine" – said Luc Chénier, a Canadian citizen and a permanent resident of Ukraine for the past 22-years.
100% of the profits from each sale will be donated to the UNITE with UKRAINE fundraising efforts by UWC (Ukrainian World Congress). This initiative provides lifesaving protective gear to volunteers who stayed in Ukraine to defend it from Russian invaders.  https://www.unitewithukraine.com.
"Ukrainians are fighting for their freedom against Russian invaders. Every dollar raised for Unite with Ukraine goes towards helping to protect the Ukrainian people. Thank you to everyone who is contributing to this effort.  Together we are stronger" – Sonya Soutus, Executive Director – Ukrainian World Congress
NOTE: More country flags and merchandise are soon slated to be added to the collection just in time for the Christmas shopping period.
 To purchase merchandise, please visit: www.younited-nations.com
To make a direct donation to UWC (Ukrainian World Congress): www.unitewithukraine.com
Contacts:
Luc Chénier:   [email protected]