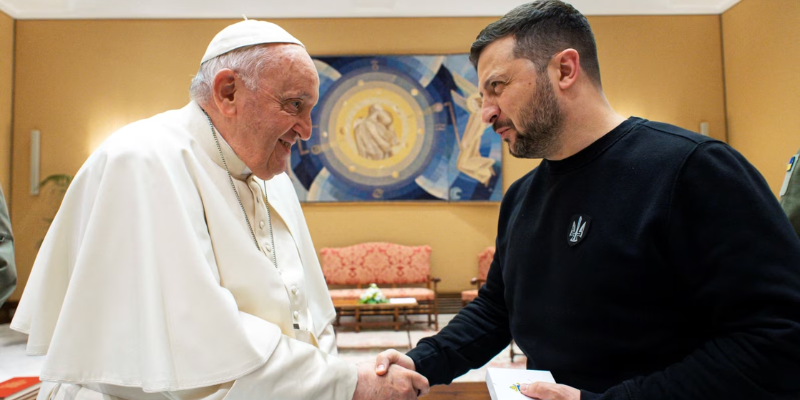 On Saturday, Ukraine's President Volodymyr Zelenskyy met with Pope Francis in the Vatican City as the Ukrainian leader paid his first visit to the Holy See since the beginning of Russia's full-scale war on his country.
According to Vatican News, the 40-minute meeting focused on the humanitarian and political situation in Ukraine following the ongoing war.
The Holy Father assured the President of his constant prayers, as witnessed by his numerous public appeals and invocations to the Lord for peace.
They agreed on the ongoing requirement to continue providing humanitarian aid to the population, and the Pope highlighted, in particular, the need for "gestures of humanity towards the most fragile, the innocent victims of the conflict."
During the meeting, Zelenskyy focused on the need to cease Russian military aggression and restore peace, according to the official website of the president. He called on His Holiness to unequivocally condemn the aggression and emphasized that there could not be equality between the victim and the aggressor.
"A clear and realistic algorithm for achieving a just peace is laid out in the Ukrainian Peace Formula," Zelenskyy said. He asked the pontiff to contribute to the implementation of this formula, particularly regarding food security, the release of POWs and deported persons and justice restoration.
"Since the war continues on the territory of Ukraine, the peace plan can only be Ukrainian," the president emphasized.
A separate topic of the meeting was Russia's crimes of abducting Ukrainian children and deporting them to the aggressor state.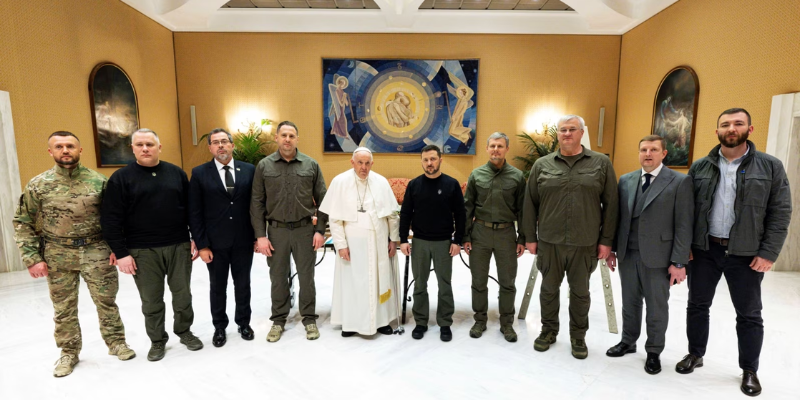 Zelenskyy's visit to the Vatican came on the heels of intriguing comments made by Pope Francis last month when he hinted at being involved in a secret peace plan – an initiative confirmed neither by Kyiv nor by Moscow, Sky News reported.
However, even if it was discussed during the meeting, no official announcements have been made on the matter, according to Radio Svoboda. Instead, experts emphasize Francis and Zelenskyy have a common goal to end the war but different visions of how to achieve this goal.
"Maybe there is some kind of peace plan from the Vatican, but as it always is and is logical, the Holy See moves through too narrow private channels that avoid journalists like the devil," political scientist Andrea Margeletti commented for La Stampa.
Radio Svoboda also summarized the positions of Francis and Zelenskyy toward pathways to peace.
"The Pope seeks peace through negotiations. At this stage of the war, his intention is to achieve a ceasefire as soon as possible. For Francis, the dialogue begins with an offer of a truce, at least from one of the parties to the conflict, in order to further seek solutions through diplomatic means. According to the Pope, all wars are unjust. As a result, priority is given to achieving peace at any cost, putting the rights and hopes of the people, victims of aggression, on the back burner," Radio Svoboda points out.
On the other hand, "President Zelenskyy aspires to a military and political victory in the battle against Russia, which should lead to the achievement of a just and lasting peace in the region, according to Kyiv. For Zelenskyy, ending the war means regaining the territorial integrity of Ukraine."