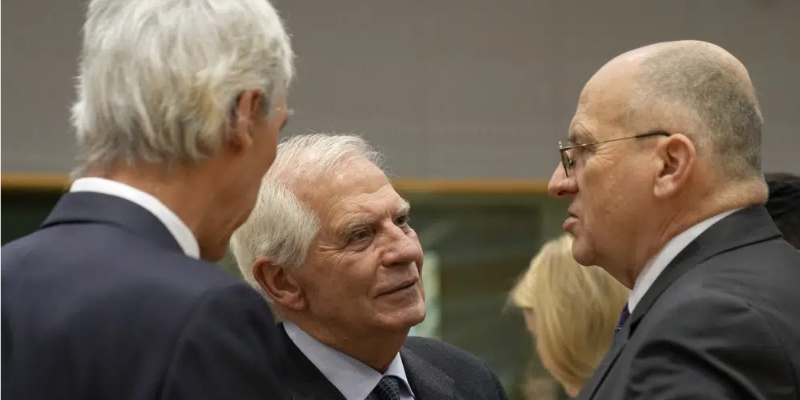 The European Union must find ways to quickly provide thousands of artillery shells to Ukraine or face the prospect of losing the war against Russia, top EU diplomats warned Monday, as ammunition stocks in national EU armories dwindle, according to AP.
"The most important, pressing issue today for the Ukrainian army is to have a continuous flow of ammunition," EU High Representative for Foreign and Security Policy Josep Borrell said before a bloc's foreign ministers meeting on Monday. "If we fail on that, really, the result of the war is in danger."
Borrell said that Russian forces are firing about 50,000 rounds of artillery each day and that Ukraine's supplies must be lifted to the same level. Other estimates suggest that Ukraine is firing up to 6,000-7,000 artillery shells daily.
Most sought after, Borrell underlined, are 155mm artillery cartridges.
The EU foreign policy chief said that the discussion would focus on ways to make joint purchases of ammunition and use a special EU fund to provide extra financing. However, the defense industry requires solid, long-term orders to stand up and expand its production lines and cannot simply ramp up supplies overnight.
Estonia, which shares a border and a long history with Russia, is driving the EU and its NATO allies to provide 1 million artillery shells at an estimated cost of €4 billion ($4.3 billion).
At the Munich Security Conference on Sunday, Borrell said a special meeting of EU defense ministers slated for March 8-9 would provide a chance for countries to offer ammunition from their existing stocks, according to The Guardian.
"We are in urgent war mode," Borrell said. "This shortage of ammunition has to be solved quickly; it is a matter of weeks."
He supported the Estonian idea, which is based on the procurement model for vaccines during the Covid crisis, saying it would work in the medium term. Nevertheless, he said the urgency of the shortages is such that it requires EU countries to draw on existing stocks. "We have to use what member states have," he said.
"Much more has to be done and much quicker," Borrell emphasized.
Speaking at the same event, Kallas said Russia was in a wartime mode, producing ammunition across three shifts, and added there needed to be a similar war footing in Europe. She claimed defense industry executives had told her they had no orders from the EU.
Photo: European Union foreign policy chief Josep Borrell, center, speaks with Poland's Foreign Minister Zbigniew Rau, right, and Portugal's Foreign Minister Joao Gomes Cravinho, left, during a meeting of EU foreign ministers in Brussels on Monday, Feb. 20, 2023. (AP Photo/Virginia Mayo)