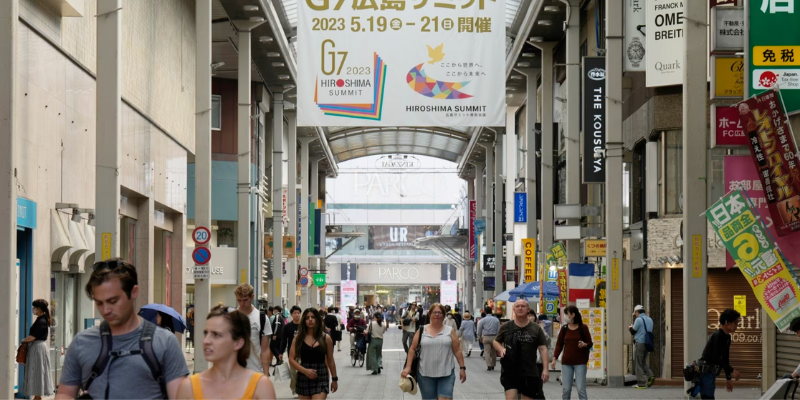 UPDATE:
Ukrainian President Volodymyr Zelensky will travel to Hiroshima, Japan, to join the G7 leaders in person, according to people familiar with the plans, Bloomberg reported on Friday.
Zelensky will fly on a U.S. military plane to Japan after an expected stop in Saudi Arabia to attend the Arab League summit, said the people, who asked not to be identified discussing confidential information.
At their next summit, the leaders of the Group of Seven – the United States, Japan, the United Kingdom, France, Germany, Canada and Italy – as well as the European Union will try to tackle a number of challenges, including Russia's invasion of Ukraine and the increased tension in Asia, Voice of America reported on Wednesday.
The G7 summit will be held in Hiroshima, Japan, from May 19-21, 2023 under the presidency of Japan's Prime Minister Fumio Kishida. Announcing the summit last summer, the Japanese PM noted that holding the event in a city that had suffered from the atomic bombing during WWII would "send the world a message… as Russia is menacing with its nuclear arms after invading Ukraine."
"Ukraine has driven this sense of common purpose" for the G-7, said Matthew P. Goodman, senior vice president for economics at the Center for Strategic and International Studies, quoted by VoA.
"Over the last 15 months, the G7 has stood in solidarity with Ukraine, following Russia's invasion, rallying the world to support Ukraine and cutting Putin off from the key technologies and financing around the globe," John Kirby, the U.S. National Security Council coordinator for strategic communications, said at a press briefing on Tuesday. "That solidarity with Ukraine is even stronger now than it was last year. And you'll see concrete action to further isolate Russia and weaken its ability to wage its brutal war."
Russia's war against Ukraine is one of the "challenges facing the international community," Fumio Kishida said in his video message ahead of the summit.
"Having experienced the COVID-19 pandemic and being faced with Russia's aggression against Ukraine, which shook the very foundation of the international order, the international community is now at a historic turning point. The G7 firmly rejects any unilateral attempt to change the status quo by force or the threat or use of nuclear weapons and upholds the international order based on the rule of law. I will lead the discussion as Chair and demonstrate the G7's strong determination to the world with historical significance," Kishida emphasized.