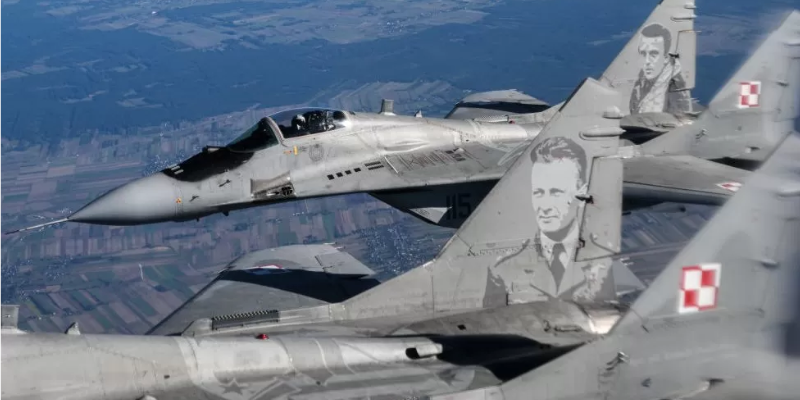 The decision of Poland and Slovakia to hand over their MiG-29 fighters to Ukraine seems to drive Kremlin into a panic.
Following the Slovakian government's decision Friday to send 13 of its MiG-29s to Ukraine and the announcement made by Polish President Andrzej Dida a day before that the first four such aircraft from Poland were on their way to Ukraine, Russia threatened to destroy any fighter jets given to Ukraine by its allies, BBC reported.
Other NATO countries are also considering sending MiG-29s, which Ukrainian pilots are trained to fly.
Putin's spokesman Dmitry Peskov condemned the plans, saying that the aircraft would not affect the outcome of Russia's "special military operation," as Kremlin calls its barbaric war of aggression against Ukraine.
"Of course, during the special military operation, all this equipment will be subject to destruction," Peskov added.
For some reason, Peskov did not use the word "crack" liked so much by his boss. In June 2022, Putin stated that Russia "cracked" the equipment provided to Ukraine by the United States "like nuts." In December, he called the Patriots system old and said "we will also crack the Patriots." So, if Peskov meant "to crack" by saying "subject to destruction," Ukraine may stay calm in this respect.
As if not believing themselves in their "cracking capabilities," the Kremlin has instructed its secret services to use agents of influence in France and Belgium to organize anti-Ukrainian rallies against the supply of warplanes to Kyiv, according to Nowiny Polskie.
To provoke mass pro-Kremlin protests, Russian propaganda will use recordings of the ongoing demonstrations against the pension reform in France. The organizers of anti-Ukrainian rallies will try to gather their few "supporters" near the loci of anti-government activities.
By now, three anti-Ukrainian rallies are known to be planned by Russia – in Paris on March 18, in Toulouse on March 19 and in Brussels on April 4. The protests will be a response to Poland's and Slovakia's decisions to deliver their MiG-29 fighters to Ukraine.