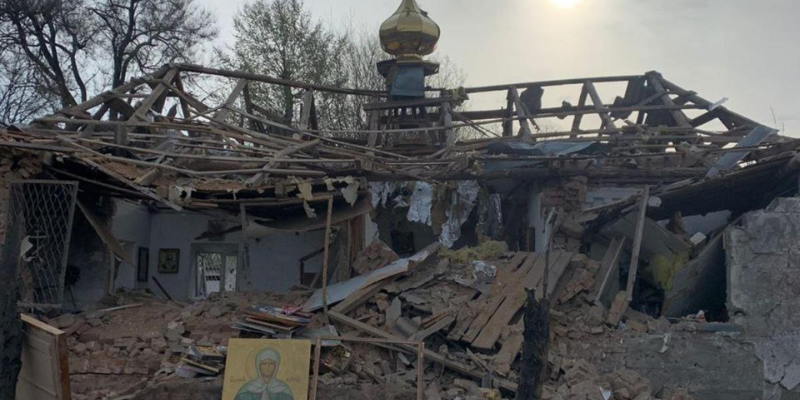 At least three Orthodox churches in Ukraine were hit by Russian projectiles and missiles during the Easter weekend (by the Julian calendar).
In Komyshuvakha, a village near Zaporizhya, a missile exploded near the local church, wounding two villagers and damaging the church and neighboring houses by the blast wave, according to the Zaporizhya Oblast Military Administration head, Yuriy Malashko. Luckily, there was no church service at the moment.
Another rocket hit a fuel bricks warehouse in the village.
Russia carried out 101 strikes at Zaporizhya Oblast over Easter night. "There is nothing sacred [for the Russians]," Malashko wrote on his Telegram channel.
The city of Nikopol in Dnipropetrovsk Oblast was shelled by Russian heavy artillery on Sunday. The shelling damaged a church and five residential buildings. A 57-year-old man and a 38-year-old woman were injured.
"The Russians once again confirmed that there is nothing sacred for them," said Serhiy Lysak, head of the Dnipropetrovsk Oblast Military Administration.
As a diversion, the Russian troops also struck a church in Donetsk, the oblast center they have been occupying since 2014, right during the Easter service, RIA-Melitopol reported. A woman was killed, and many were wounded in the attack. As usual, the Kremlin's propaganda blamed Ukraine for the crime committed by Russia.
Photo: The church in Komyshuvakha after the missile strike. Zaporizhya Oblast State Administration