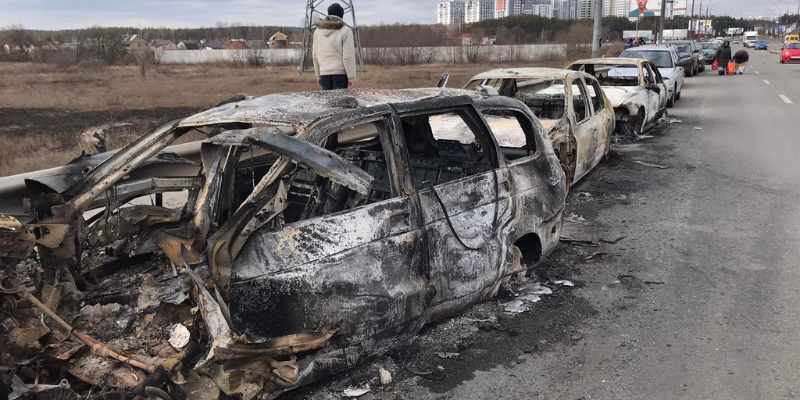 Yevhenia Bobryk was lucky to get across the road while the russians were recharging their submachine guns. Later, safe in Poland, she would say: "Known are the stories about those who have escaped. But actually, there are more those who have not made it."
Yevhenia, her husband, and her daughter Nastya, 15, lived in Bucha, a Kyiv suburb, their house eight kilometers from the Hostomel airfield. After russia attacked on Feb. 24, they moved to the house of their friends, which had a large basement, and sheltered there with nine other people.
In the basement, they were weighing two options: wait until the russian orcs break in and start torturing them or go under fire and risk being wounded and bleeding to death. In a week, they finally made up their minds and, in the early morning, embarked on two cars. Yevhenia was at the wheel of her Jaguar CUV with two other women and a spitz as passengers. Her husband's car carried their daughter, one more woman, and two dogs.
Just after they crossed the railroad tracks and entered Irpin, Yevhenia heard a submachine gun rattle, saw tracer bullets flying, and thought that her life was over. The husband managed to turn right into an alley. Yevhenia slammed on the brakes and understood that one of the wheels was shot through. And at that moment the hood of her car burst up.
"I did not see the shot, but my husband later said that it was a rocket launcher," she recalls.
The car caught fire but, luckily, did not explode. Yevhenia and her passengers jumped out of it and used it as a cover, while the russians continued shooting. One of the women ran but fell, wounded. Yevhenia's husband saved her by pulling her off to a safer place. When the russians were recharging, the shots dying away, the husband hollered: "Run!" When the orcs resumed fire, they were already on the other side of the road. "We had this moment! And we made it!" says Yevhenia.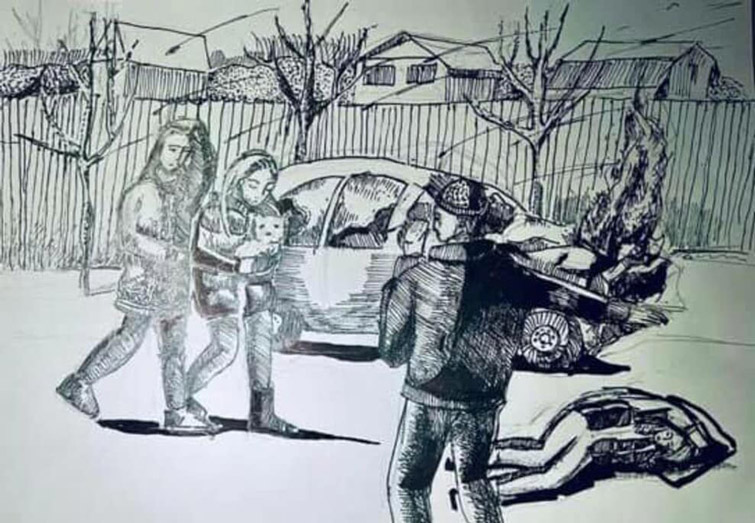 Drawing by Yevhenia's daughter
They returned to the basement. The wounded woman had a bullet in her abdomen and needed urgent hospitalization, but the doctors they managed to reach by phone refused to go under fire. But they were lucky again: a friend from the territorial defense came and took her to the Irpin hospital.
Yevhenia and her family stayed in the basement for another five days, depleting their stock of water and food. On March 9, they were told that there was an evacuation corridor. "It was our last chance," Yevhenia says.
They were driving for eight hours, MLRS missiles flying overhead, Bucha and Stoyanka in ruins, corpses of people and vehicles on the roadside. "Going eight hours through the tattered country – it was impossible."
Yevhenia had lost all her documents in her burned car. "When we were crossing the Polish border, I showed the border guard a photo of my foreign passport and explained the situation. She went to ask her commander what a rocket launcher meant. Then she came back and asked: 'Where were you during the shelling?' I answered that I was driving. She let me in without a word."
***
We post stories like this so that as many people as possible all over the world will know the truth first-hand – about the war of terror unleashed by russia against Ukraine and the policy of genocide the kremlin pursues. The true stories told by ordinary people who wanted to live and be happy and never thought about any war. Please share their stories!
Source: Ukrainska Pravda. Zhyttya