A Ukrainian student from Kyiv invented protective shoes that can save a person from a mine explosion, Euromaidan Press reported. 16-year-old Roman Zdorovylo, from the Minor Academy of Sciences, developed boots with a special platform and four "legs" that protect limbs from amputation when triggering an anti-personnel mine.
The idea came to Roman while he was watching a video of a Ukrainian armored personnel carrier storming Russian positions in Zaporizhzhia Oblast. The first fighter out of the vehicle triggered a mine.
Roman's supervisor, Oleh Kozlenko, and the student analyzed a similar Canadian product called "Spider-boots." Later, the inventors developed lighter, more comfortable, stable boots to withstand explosive force better. The invention costs a little less than the Canadian version. Each shoe weighs more than 1.5 kilograms.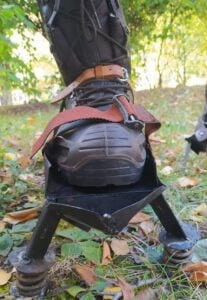 "Our device is lighter, more comfortable, and simultaneously more stable, which allows it to withstand more load. Due to the metal V-shaped platform, the blast wave travels in different directions, which allows you to save your limb," he explained.
The boots were created to protect against PFM-1 "Petal" mines and other explosives containing up to 100g of TNT. They will aid farmers, emergency responders, foresters, railway workers, and power engineers working in de-occupied regions of Ukraine. Russian forces have used antipersonnel mines in multiple areas across Ukraine, including victim-activated booby traps, since its full-scale invasion of Ukraine on 24 February 2022.
Roman hopes the state will support the production of the innovative new boots, as his school lacks manufacturing capabilities.