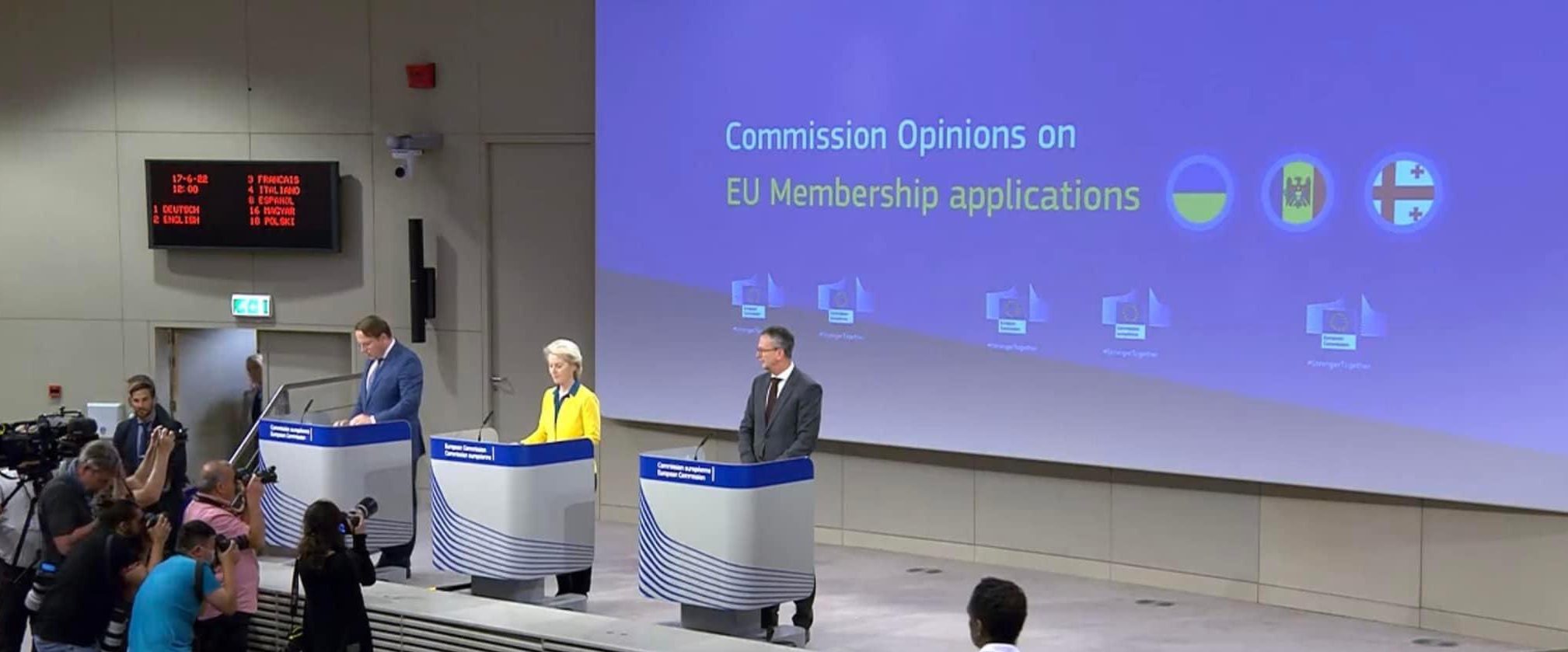 June 17, 2022 – Brussels. The Ukrainian World Congress (UWC) welcomes today's recommendation by the European Commission to grant Ukraine European Union (EU) candidate status. UWC calls upon the European Council and all leaders of EU member states to adopt this recommendation during their June 23-24 Summit in Brussels.
The European Commission, which is the executive body of the European Union, acknowledged that Ukraine is well advanced in reaching EU standards, including the stability of its institutions guaranteeing democracy, the rule of law, human rights and respect for and protection of minorities; has continued its strong macro-economic record, demonstrating a noteworthy resilience with macroeconomic and financial stability.
"This is a historic day for Ukraine's European future. Together with yesterday's commitments by the German, French, Italian and Romanian leaders during their visit to Kyiv, the EU has demonstrated powerful political, economic, and military support to the Ukrainian people as they defend against Russia's vicious invasion. Ukraine belongs in the EU and a positive decision by the European Council will formalize the path forward for Ukraine becoming a full-fledged EU member. Unlike their neighbours to the north and east, Ukrainians have clearly demonstrated their commitment to the EU's fundamental values of respect for human dignity and human rights, freedom, democracy, equality and the rule of law," stated Paul Grod, UWC President.
According to Ursula von der Leyen, President of the European Commission, "Ukraine, Moldova and Georgia share the strong and legitimate aspiration of joining the European Union. Today, we are sending them a clear signal of support in their aspirations, even as they face challenging circumstances. And we do so standing firm on our European values and standards, setting out the path they need to follow in order to join the EU. The Commission's opinions mark an inflection point in our relations. Indeed, this is a historic day for the people of Ukraine, Moldova and Georgia. We are confirming that they belong, in due time, in the European Union. The next steps are now in the hands of our Member States."
Despite these favourable opinions, the final decision on the EU candidate status to Ukraine must be adopted on June 23-24, 2022 by leaders of all 27 EU member states during their summit in Brussels.
"UWC calls upon the European Council and all EU leaders to approve EU candidate status for Ukraine. Ukraine belongs to the European family of nations. Together with the global Ukrainian community and friends of Ukraine, we will build a better and greener future for Ukraine and the EU. Furthermore, we urge Ukrainians and all friends of Ukraine across EU countries to strongly advocate their respective governments to vote in favour of Ukraine's EU candidate status on June 22-23," Paul Grod emphasized.
#EmbraceUkraine #UAtoEU #UniteWithUkraine https://t.co/WvR39PgX60

— Ukrainian World Congress 🇺🇦 (@UWCongress) June 17, 2022