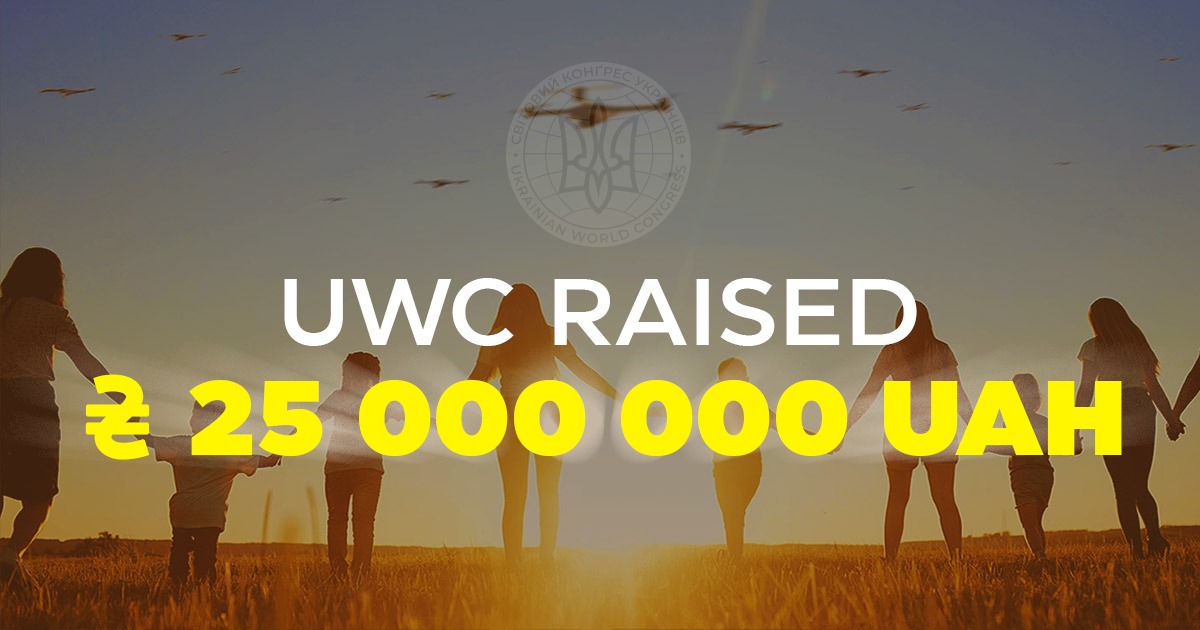 Kyiv, October 3 2022 – The Ukrainian World Congress announced the sum of donations raised through Unite With Ukraine for UNITED24's "Army of Drones" project. The sum of more than USD $600,000, which totals more than UAH 25 million, has been raised by the global Ukrainian community and friends of Ukraine on occasion of Ukraine's Independence Day.
"From the first days of war, the Ukrainian World Congress has worked tirelessly to strengthen international support for Ukraine, and to help Ukrainian soldiers defend their land. We continue using all available opportunities to ensure Ukraine's defenders have the technological advantages necessary to achieve victory in this war against a terrorist state," said UWC President Paul Grod.
Numerous donors, sponsors and Ukrainian communities and organizations from more than 70 countries answered UWC President Paul Grod's appeal, including the campaign's foremost partner, Saint Javelin, led by its founder Christian Borys, who raised and contributed more than $350,000 towards the effort.
The campaign's ambassadors include Ukraine's third President, Viktor Yushchenko, and the popular Ukrainian Canadian singer, three-time Juno Award winner and Member of the Order of Canada, Chantal Kreviazuk, along with Ukrainian community leaders around the world.
The Ukrainian World Congress will use the funds raised to procure unmanned aerial vehicles that will help the Armed Forces of Ukraine to focus on, plan, and conduct military operations with the use of modern technologies, that will also provide constant monitoring of the frontlines in order to repel enemy attacks.
BACKGROUND
In July, 2022, UWC and the Ministry of Digital Transformation of Ukraine signed a Memorandum of Cooperation to support the UNITED24 fundraising platform for the "Army of Drones" project. This is a complex program that involves drone procurement, delivery, maintenance and replacement, as well as pilot training.