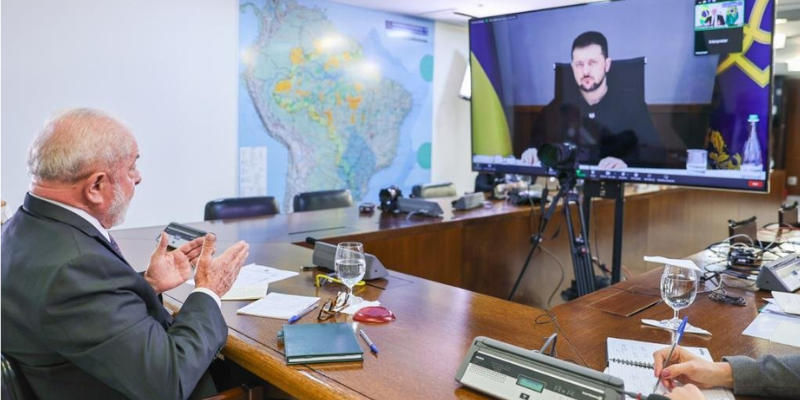 President of Ukraine Volodymyr Zelensky had a "useful conversation" Thursday via a video call with his Brazilian counterpart Luiz Inácio Lula da Silva, resuming contacts between the countries at the highest level, the Ukrainian leader said in his late-night address.
"I informed [Lula] about Russia's attacks against our people, the killing of children and the strikes on our civilian infrastructure. I thanked Brazil for supporting our [UNGA] resolution on peace and territorial integrity for Ukraine," Zelensky said.
He also said they discussed diplomatic efforts to stop Russian aggression and restore peace, particularly the international efforts to implement the Ukrainian Peace Formula.
According to CNN Brasil, the Ukrainian president wants to expand global support for the country in its defense against Russia, having previously stated that he wished to speak personally with Lula to show him a "broader view" of the conflict.
Immediately after the video call, Lula tweeted, "I reaffirmed Brazil's desire to talk with other countries and participate in any initiative related to building peace and dialogue. War cannot interest anyone."
In a more recent tweet, the president of Brazil elaborated that the war between Ukraine and Russia "is not good for anyone" and that Brazil will participate in any effort towards peace. "I hope that there are no more deaths and that a policy of dialogue can be established."
In an exclusive interview with CNN in early February, the Brazilian president said that the Russian invasion was a mistake but again denied sending ammunition to Ukraine, as requested by Germany. He explained that, in his assessment, sending ammunition would be like entering the war.
The Ukrainian community in Brazil is actively pushing for extending Brazilian support for Ukraine, including ammunition, in the war of aggression unleashed by Russia.
In January 2023, after Luiz Inácio Lula da Silva's inauguration, the Ukrainian World Congress and the Ukrainian-Brazilian Central Representation (UBCR) jointly addressed the newly-elected president, calling him and the Government of Brazil to increase their support of Ukraine in 2023 and provide Kyiv will all available political and diplomatic support.
In February, in an interview with UOL, one of Brazil's most visited websites, UBCR President Vitório Sorotiuk said that sending weapons for use in defense of the Ukrainian people is lawful since the U.N. has condemned the Russian aggression.