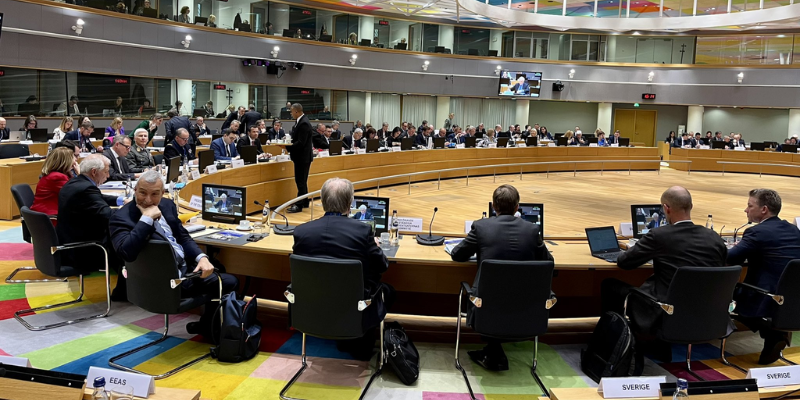 On Monday, EU countries sealed a €2 billion plan to provide Ukraine with a million artillery shells from their stockpiles and new purchases over the next year.
"We have reached a political consensus to send to Ukraine one million rounds of 155 mm caliber ammunition," Reuters quotes Estonian Defense Minister Hanno Pevkur as telling reporters on the sidelines of the EU's joint foreign and defense ministers meeting in Brussels.
"There are many, many details still to [be] solved but for me, it is most important that we conclude these negotiations, and it shows me one thing: If there is a will, there is a way," said Pevkur, whose country had championed the move.
"It has been a very long but productive day," EU foreign policy chief Josep Borrell began his remarks at a news conference. He said it started with the Foreign Affairs Council, which was followed by a joint meeting with Defense Ministers attended by Ukraine's Foreign Minister Dmytro Kuleba via VTC.
A historic decision.

Following my proposal, Member States agreed to deliver 1 mio rounds of artillery ammunition within the next 12 months.

We have a 3 track approach:
1) €1 bn for immediate delivery
2) €1 bn for joint procurement
3) commission to ramp up production capacity pic.twitter.com/CCNOaxE4bk

— Josep Borrell Fontelles (@JosepBorrellF) March 20, 2023
According to Borrell, there are three tracks on which EU countries have reached an agreement:
First track: €1 billion from the European Peace Facility to reimburse the Member States who immediately deliver ammunition – 155mm shells and, if Ukraine requests, missiles. This is coming from national stocks or pending orders.
Second track: another €1 billion to reimburse joint procurement of 155mm shells and also missiles, if it is requested by Ukraine, from the European defense industry and Norway. This will be done through a project led by the European Defense Agency (EDA) or by a lead-Nation's framework. The objective is to deliver, and to deliver fast.
And the third track is to increase the capacity of the European industry.
Borrell elaborated on the second track. "For now, 17 Member States and Norway have signed the Project Arrangement of the European Defense Agency today. I know that more will join soon. For practical procedures, not everybody has been able to sign today, but I think that we will be above 20 Member States participating in this project. So, the project is well on track, and contracts should be passed with the industry by the end of May," he said.
According to the General Staff of the Armed Forces of Ukraine, the Project Arrangement was signed on Monday by Austria, Belgium, Croatia, Cyprus, the Czech Republic, Estonia, Finland, France, Germany, Greece, Luxembourg, Malta, the Netherlands, Portugal, Romania, Slovakia, Sweden and Norway.